A bit of an international weekend for some of our Jackpotters this weekend just passé…Alpe D'Huez and Ironman Maastricht beckoned.
John Swallow, Gordon Kilroy and Eddie Howarth headed to the Alps for the long distance event. With a 2.2k swim, a hilly (!) 115k bike and half marathon, the sun welcomed our athletes (by the way – this was to celebrate John's 50th Birthday!) for a loooooong day of racing.
Eddie was the first Jackpotter to finish in a time of 8 hours 6 minutes (fast!); John and Gordon finished together (how did that happen?!) (Gordon has just got over a broken collar bone and ankle!) in 10:18 after a gruelling bike and tremendous racing. Eddie finished 27th in his age group, 195th overall; John 50th in age group and 648 overall; Gordon 133rd in age group and pipped John at the post 647th in position (how mean! On his birthday!)! Well done chaps!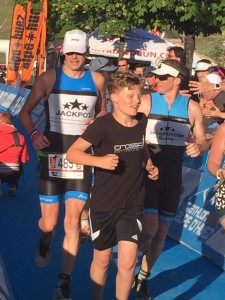 In Masstricht, Max Hazell was 9th in his age group (AWESOME!) in 10:36 with the following splits: 50:47 swim (how fast?!), 5:37:05 bike and a 4 hour 2 minute marathon.  Max was 14th overall out of the water! Max describes the race as follows:
'Swim was okay, got out with the front guys. Got carried away at the pointy end on the first bike lap and paid for it big time for the rest of the day. I'll make up for it at the next one I promise.'
Swim was more than okay Max but we shall look forward to your next Ironman!