Ian Gilham writes with a marvellous report and splendid performance at the Bedford Duathlon last weekend:
'The race was at the Bedford autodrome car track – which made for interesting racing given the torrential rain and strong winds on the day. Shotgun start (all competitors in all age groups off at the same time) made for an interesting first bend on the run – managed to get into a decent rhythm coming into T1 2nd in my age group. Had a decent bike managing to just about keep warm in miserable conditions dodging lots of riders who had crashed or given up and were pushing their bikes back to transition. Interesting T2 as I arrived at my place to find another athlete putting my run shoes on! Seems he was cold and confused – especially given my shoes are blue and his were green and he was racked at least 50 places from me! Seemed like a nice chap – 20 seconds later into T1 though and I'd have had no shoes and he might not have made my Christmas card list…. Managed to survive the second run (despite ankle deep water in places) regained a few places finishing AG 4th and qualifying for next year's ETU champs in Soria. Feet up time….'
Many congratulations on qualifying for Soria Ian! And for retrieving your shoes!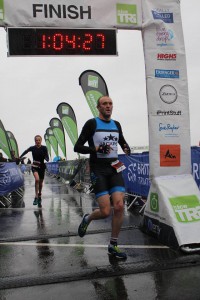 And we have a WIN for Tom Van Rossum (TVR va va voom) at Helwith Bridge Duathlon! Tom returned to the venue of his first du/triathlon and went over 10 minutes faster than his first attempt, and in doing so, took the win and course record! Apparently home made flapjack has something to do with the win (not a TUE we might add!). Super going Tom!