Castle Howard to be precise, and Zurich and Ellerton Park. Another good and punchy weekend for Jackpot Racing.
Colin Hill was crowned King of Castle Howard at the Sprint Plus race (800m swim – 46k bike and 8k run) finishing FIRST overall in 2:06:11! Colin's stats: 14:13 swim, 1:17:26 bike and 32:40 run.  SUPERB racing Colin! Colin was ahead of probably one of the best team names I have heard of yet: Team Ali's Stag Do, (2nd time lucky) – there you go. In case you are in need of an idea for a stag do 🙂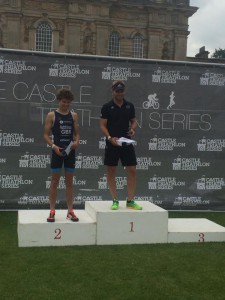 The standard distance saw Hannah Drewett strike SILVER and finish in a time of 2:31:08 with the bike leg being long at 45k. Hannah's stats for you data analysts: 21:49 swim, 1:22:21 bike (hilly!) and 45:19 run. WOW!
Team buddy Will Cowen was also out in action at the standard distance scoring 7th overall in an incredible time of 2:21:47 (21:59 swim, 1:12:44 and 45;243 run)  – super tough competition and super racing.
And now to Zurich and to the man who has the best pout on the team, our very own China Clarke literally skipped over the finish line (having problems embedding the video footage currently!) at Ironman Zurich! It was China's first Ironman and what a race he had!  Posting a 1:17 swim (BRILLIANT!), China smashed out a 5:37 bike and then a 4:15 run completing the race in 11:28:49 🙂 What a race China – you must be over the moon! Though we see you are now sunning it in Nice!  We are over the moon for you!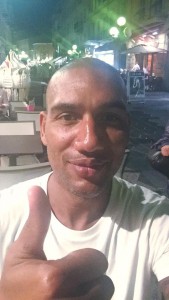 Back to the sticky and hot UK and we head up to Northallerton for the Steelman Middle Distance Triathlon. Claire Pickersgill and Jenni Muston were out in force however Jen was doing the swim and bike only as part of a relay. Claire scored a glorious 4th overall lady and 3rd in age group and FIRST CLASS HONOURS in gutsiness and determination…the swim was a strange one for most athletes looking at the results. Everyone spoken to described the swim as a washing machine – it's a small lake about the size of a washing machine – it just was not a nice swim. Onto the bike and 10 miles in, one of Claire's tri bars decided to undock itself leaving her in the drops for the last 48 miles (still scoring one of the fastest ladies bike times).  Onto the run and it is now sweltering. After the first lap, Claire had to stop at the feed station with stomach issues…a bit of vomiting, stuffing down oranges and drinking water in a frenzy, Claire was on her way again. Claire, you so deserved a podium overall. Tremendous racing 🙂
Jen was in the same washing machine, thank goodness there was no tumble dryer. The bike was an interesting one with 6 miles of the 58 on newly gravelled roads – average speeds were hit for all competitors.  It caused frustration and mechanicals for a few athletes. Jen had the fastest ladies bike time – va va zoom!
Lastly, Tom Linton-Neal raced at a mid-week super sprint at Ellerton Park last week…according to Tom, finishing in a disappointing 8th overall AND ripping his tri suit….8th is still a top ten 🙂