The Big Smoke saw some of our athletes – David Bishop, Jessica Learmonth, Heather Sellars, Aaron Harris and William Cowen – race to podiums at the London Triathlon at the weekend in the elite race!
David raced to Gold in the Olympic distance (pardon the pun!) race with an incredible run split of 32 minutes (!) – well, it was all incredible really.  Posting a 17:45 minute swim, followed by a 52:09 minute bike, David was ahead of 2nd position by over a minute finishing in 1:45:13!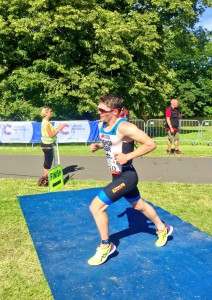 Still in the mens race, Will Cowen raced strong finishing in 1:53: 24 just ahead of team mate Aaron Harris who finished in a tremendous 1:53:51. A brilliant set of results and performances to match!
Switching to the ladies, Jess finished less than a minute behind the ladies race winner but posting the fastest swim split and bounding to second place in 1:57:13!  Heather shot to third place in 1:58:02. Just WOW!
Colin Hill scored 4th overall at Allerthorpe Classic Olympic distance on Sunday and 1st in his age group (45-49!). Super racing Colin!
News in from the Xterra Poland from Tom Linton-Neal:
'NOT THE RACE I HAD HOPED FOR ….
Swim: I had a great swim really pleased to have been up at the front of the pack setting me up to ride alongside some of the pros who set off a few minutess ahead of me.
Bike: of the two lap course, halfway into the first lap I caught up a group of pro males, making great progress. Working through the back end of the pro field things were looking and feeling good …. then things started to quickly fall apart for me. My blood sugars shot up and 20 minutes afterwards I began to be sick and struggled to stay upright on the bike.  Coming back into transition I was sick again.  This led the marshals to take me to the ambulance but I asked not to be taken out of the race. After ten minutes with the medics, I went back to transition to begin the run but was sick again, this lead the marshals to pull me out the race.

I am heart broken not to have finished and especially when I was feeling so good.  After putting so much into training, it is a hard pill to swallow and emotional 😭.
If racing with diabetes has tought me anything, it's that you have to take the rough with the smooth and the highs with the lows.
BUT NOW my focus moves to Xterra Germany in two weeks time!!! Forwards and upwards!
I WILL NOT LET DIABETES STOP ME!'
Another gutsy athlete from the Jackpot pack – really well done Tom 🙂