More scores to add to the board from the British Championships at Liverpool from this weekend.
Adam Bowden took a bow winning the men's elite sprint race in 54:58 (!) with Tom Bishop also podiuming (new verb I think) in 3rd finishing in 55:23. Add to that Chris Perham in a very close 5th in 55:46, Aaron Harris in 56:16 and David Bishop -who only the week before nailed the London Triathlon with an almighty win – in 12th in 57:12 – real racing looking at how close these times are. Top racing!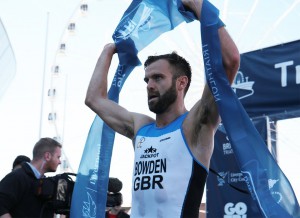 Over to the ladies and Jess Learmonth and Heather both podiumed with a silver and bronze respectively! Jess finished in a very speedy 1:01:44 and Heather very close behind in 1:02:02.  We need a new silverware cupboard at the Jackpot HQ! Wonderful racing ladies!  Many congratulations!
It does not end there!  We had three of our age groupers in the standard race and Ian Gilham kindly gives us his own account of the race for him:
'…I was 6th in my AG (super wrinklies) national champs today.
Not the best preparation in that I thought I'd entered the sprint distance until I got the start list through earlier in the week – who said "preparation is the key to success"? (!!!)
Lost the lead group in the swim so ended up by myself doing a billy-no-mates 1500m, that is apart from a couple of thousand jellyfish keeping the spirits up (were these the same jellyfish from Mallorca?!)! Got through the amazingly long and complicated T1 and made up some time on the bike despite being passed by ridiculously massive peletons with not a draft-buster in sight. Grrrrrr.
Got passed by a few folks late on the bike but got a couple of places back in T2 and out onto a decent run in perfect conditions – frustrated to miss a sub-40 minute run by a couple of seconds but pleased with 6th place. Now off to train in the sauna in preparation for Mexico next month.' Well raced Ian and we shall look forward to hearing about Mexico!
Craig (to)Boggon whooshed to 4th on his age group (25-29) with an overall time of  2:01:46 including a tremendous 34:24 run! Craig was 20th overall 🙂 Brilliant!
Tim Ashelford popped an age group podium with a 3rd! Great great great! Tim finished in a speedy 2:08:23! Congratulations Tim!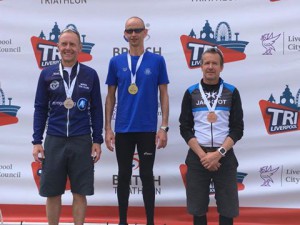 Gordon Kilroy was also out to play after his recent visit to the Alpe d'Huez long course triathlon. Gordon popped a 22nd in his age group with a time of 2:15:28.
Two weeks until the National Relays! Jackpot have a few teams registered for Saturday and Sunday – there should be some glorious racing there!