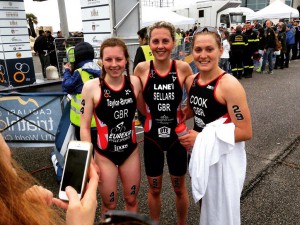 Jackpoters were splattered to the seven winds this weekend and all raced under very different conditions.
Lets start with Mallorca 70.3…rain was forecast but no one expected the Turner-like deluge which flooded the latter part of the bike course.
Anyway, back to the beginning. Over 4000 athletes waited in cold temperatures for the rolling swim start on Saturday morning whilst even the beach started to flood. Jenni Muston found a spectator to moonboot-watch whilst she was able to swim and have said moonboots handed back to her on exit from the swim to enable her to get to the transition area. The swim was warm…but was also full of jellyfish! Athletes defrosted in the Med whilst spectators watched on like freezing penguins.
After a great swim and five stings, Jen exited the water to find it was still thrashing down with rain, popped on the mootboots and walked the 800m to transition. After a wait in transition and lathered in anti-jellyfish-sting-cream, Jen hopped onto the bike with a chum to keep her company during the relentless downpour.
After much nattering and 40 miles into the bike, Jen and chum came across another chum who was more than chilly. It was quickly obvious he was starting to go down with hyperthermia. After getting him to the side of the road and emergency services called, said frozen chum was put into ambulance, transport for his bike sorted and Jen & Co were on their way again to the soggy finish.  That ended the race for Jen as she's still can not run with the injured foot. She still got her medal, t-shirt and finish photo shot and thoroughly enjoyed the day 🙂
All a bit different from the last two years which have seen temperatures hitting 40-degrees on the run.
Back in a scorching blighty, where temperatures touched 27-degrees in Sunny Yorkshire (yep, rubbing it in), Tim Ashelford opened his 2016 racing-account with a 4th in AG at the English Championships in St Neots. "Strange mix of very cold swim and hot run", said Tim.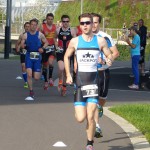 Feeling at home, Jackpot's Aussie contingent was racing the ELT Dragonslayer duathlon at the Lee Valley VeloPark (better known as Olympic Park).  Ryan Parry hit the race without tapering but still came a brilliant 6th overall.  The  race was held on the criterium race track which is very undulating and technical track.  Ryan even led from the gun until about five laps into the 15-lap bike.
And then over to Cagliari ITU World Cup sprint event where David Bishop smashed out a 9:34 swim and 16:25 run for 59:18 total and 38th position overall despite still recovering from a chronic injury. Heather Sellars (top) was also on-form for her first race of the year, putting in the day's 10th best run in 18:04. An overall time of 01:06:01 gave Heather 15th place in the ladies race.  By all accounts the cycle leg on this course was a bit of a tester.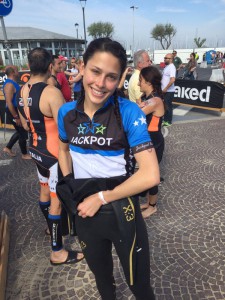 Hannah Drewit was flying the jackpot flag in Challenge Rimini (clear, 20-degrees but windy) and boy did she fly the flag!  First out of the water, Hannah led the race for the first hour before being overtaken at 25k on the bike, and then held second until 60k.  Despite a hiccup with a lost timning-chip, Hannah recorded 5:05 for her first middle distance race.  Impressive start.
Last, but certainly not least, Jack Hall took an overall win at the snappily-named Peterborough Monster Racing Monster-Mojito Triathlon 2016. In Jack's own words;
"Sweet start to the season on a sweet day in Peterborough. I started a bit excited for this my first triathlon of the season and ended up drilling the 1500m swim and 40km bike. Not really worrying about the run as my mind-set for each stage was 'Don't worry about the pain its future Jack's problem.' When future Jack had reached the run he immediately regretted the decisions of past Jacks'. However, I managed to waddle around the 10km to take the win by over 5mins."