Yet more silver to add to the podium cabinet from this weekend's racing!  Katie Synge raced for the first time with Jackpot scoring a WIN at the Oldbury White Horse Sprint Triathlon – Katie was 1st lady over the line by 5 minutes, 7th overall (#girlpower) and had the FASTEST swim and the only athlete to go under 5 minutes (4:25.60 to be precise! How fast?!) over the 400m distance. Katie broke the course record finishing in 58:37.35.  What a race!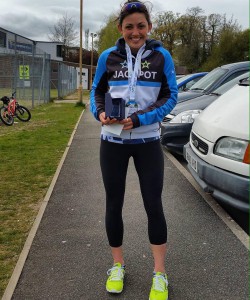 Team mate Max Hazell also podiumed at the same race finishing 20 seconds behind the winner and posting an outrageously fast run of 16:13 over the 5k distance – the fastest time in the race overall!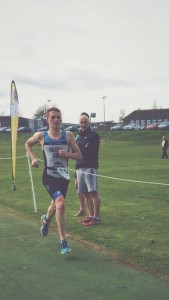 In sunnier and less snowy climes, David Bishop headed over to Madrid for the 2016 ETU Triathlon European Cup on Sunday. David finished 24th less than 5 minutes behind the 1st position, putting in a sub 18 minute swim over the 1500m distance, 1:05 on the 40k bike and 33 minutes on the 10k run. Ridiculously fast – top racing David 🙂
The weekend also saw the BUCS Sprint Triathlon Championships held at Calne in Wiltshire.  We have another podium!  Hannah Drewett took silver over the 750m pool swim (3rd fastest swim!), 20km bike (non drafting – Hannah had the fastest bike of the female race) and 5km swim.  Fantastic going Hannah!
Team mate Chris Perham also raced finishing in the top ten in 9th position just 1 minute behind the race leader. Chris had the 4th fastest swim and like Max, put in a 16 minute 5k.  Tremendous racing both!
No sign of Matt Hallam this weekend but we think he is due a weekend off!