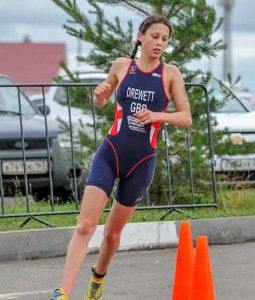 Name: Hannah Drewett
From: Salisbury
Favourite Discipline: Swimming
Favourite Race: Sea swims, technical and hilly bike and FLAT runs
Best result: U23 European Team -15th at European championships Russia 2014.  3rd Senior brit at British champions 2014, 1st 70.3 castle series- Castle Howard 2014
Profile:
I started the sport at the age of 18. I came from a swimming background, previously a breaststroke swimmer.  Since then I am a swimmer learning to run and I have improved massively!  I am currently at the University of Leeds in my finial year doing Sport Science and Physiology. I have represented Great Britain at the U23 European Championships in 2014 and my aim for 2015 are to make the U23 European and Worlds Teams.