Three of our Jackpoters raced at Yokohama this weekend: Adam Bowden, Tom Bishop and Ian Gilham!  Adam and Tom both raced on Saturday making for a cracking and oh-so-close race for a podium. This being Adam's favourite all time race, Adam finished 12th overall within a minute of the winner Mario Mola – it was literally seconds between Adam and Mario on the swim and bike sections – Adam's 10k time was a ridiculously fast 30:23!  Tom finished as 3rd elite Brit and 49th overall, again putting in an extremely strong bike giving his fellow competitors something to worry about.  Fantastic racing both!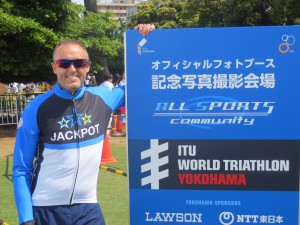 Ian raced in the age group category at Yokohama…"Inspired by watching Tom Bishop and the other GB guys boss the bike in the elite race on Saturday!"
"Tremendously well organised and supported race (felt like half the town had volunteered as marshals and the other half were out in the streets cheering!) lead to a great atmosphere through out the whole course.
Had a decent swim (despite the attentions of a few jelly fish) (same jellyfish possibly from Mallorca last week!) – out of the water 5th on the first lap slipping to 8th by the end of the swim (is it me or do all of those buoys look the same?). Got passed by a couple of folks on the bike but managed to regain a couple of places on the run to finish 7th out of 68 in my age group".
A tremendous finish for Ian! Congratulations! Eton for Ian next week for a bit of draft-legal mayhem!
team battle between Mika Brown and Craig Boggon!  Mika led by 90s out of the pool over Craig. Craig then took 60s out of Mika's lead on the first lap of a hilly bike leg, then another 45s on the second lap to lead Mika into T2 by 15s. All looked set for a battle royals in the run, but Mika's legs deserted him on the uphill section of the run and he faded to give Craig a comfortable victory in the end.
This was not however the only battle – there was an outsider in the form of a horse box.  On the bike a horse box and 4×4 contrived to nearly knock both Craig and Mika off their bikes. A couple of Leeds Bradford Tri-ers also complained about theatrics of horse box drivers as well.
It was a happier ending with the cash prizes for Craig's Gold and Mika's Silver- £100 cash and £50 cash not coupons (nor last year's prize of a year's supply of tea!).