NOTTINGHAM TRIATHLON saw some of our sprinters back on the podium again this weekend.  Mika Brown stormed to a massive 7th overall and 2nd in age category position and breaking the hour at the sprint distance. Tremendous race to watch! Chris Brown, already having qualified for Chicago, used the race to test out his swim in particular – the competition in Chris' age group was high – Chris finished in a fast 1:07.
The ladies were out in action also.  Kathryn Dickinson posted a 3rd in age category win! And Claire Pickersgill, racing with a planned non finish due to a hamstring injury put in one of the fastest bike times from the entire ladies race.  Geneva looks good for you Claire!
Down to London for the ITU triathlon at Hyde Park…and what a race!
Adam Bowden put in a glorious performance, finishing just one minute behind race winner Alistair Brownlee.  Tom Bishop raced to 30th position for this lung buster of an event.  Here's Adam looking cool at the end …spot the Jackpot logo 🙂 :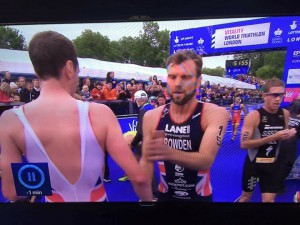 Then we have a PODIUM at the Royal Wootten Bassett sprint triathlon with a win from Kieran Hill! We await splits but we have a shiny photo: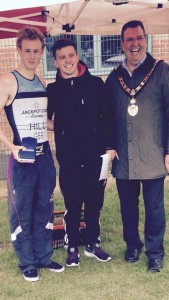 Finally, over to sunny Spain and we have a fantastic race result from Cat Jameson at Challenge Salou. This is Cat's second ever middle distance race.  Cat led the race until 6k to go and finished in 4th place ahead of Vicky Gill.  Cat had the fastest bike by 5 minutes (on a borrowed bike!) and the fastest swim by 2 minutes…watch out for this lady…there is more to come from Cat yet.  Great, great racing Cat!