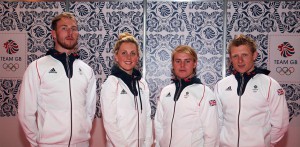 Jackpots Heather Sellars and Tom Bishop showing off their new kit for the first European Games which will take place in Baku later in June. And very smart they look too.
Heather will be first to hit the water in Azerbaijan on June 13th, whilst Tom will dive in to action one day later on 14th June. The duo will be joined by fellow Leeds triathletes Jess Learmonth, Gordon Benson and Phil Graves, plus Helen Jenkins.
The winner at the European Games in Baku will be offered a 'Nation' spot to the Olympics in Rio next year, so it is an important event for all concerned and there will be some top competition.