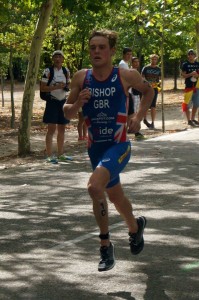 Name: Tom Bishop
From: Derby
Favourite Discipline: Cycling
Favourite Race:
International race: Auckland WTS
UK race: The Blenheim Triathlon
Best result: 3rd U23 World Championships 2011& 2012
Profile:
I have been swimming all my life, and started a bit of distance running at school. I discovered my enjoyment for triathlon when I was 12 and have been hooked ever since. It always helps to have a companion alongside, and my twin, David, has always been there the train with and race against. I had my first international cap when I was 16 as a youth since then, I've represented Great Britain at Junior, U23 and Senior level. I moved to Leeds after finishing school to study History at the University and also joined the triathlon squad there. With the help of Jack Maitland and Malcolm Brown, I won my first individual world medals. I've always competed for enjoyment and luckily that has brought along success at the same time, I'm so fortunate to be able to do what I love, as a profession.