Celebrate every athlete
We were deeply saddened to hear of the tragic event which took place yesterday at the Bala Middle Distance race.  Our thoughts go to the family, friends and loved ones of the athlete who passed away – and to all of the athletes at the race, including one of our own who was close to this very, very sad incident.
Nothing can soften the tragedy of a sudden death, but we hope those involved, and the witnesses, can take some consolation in the fact that this athlete will have passed away doing something they loved to do.
To celebrate the success of a Jackpot athlete at another race this weekend may go against the grain of this post you may think.  At the same time we race because we love it – we love doing what we do.
Nigel Ould has qualified for the Gran Fondo Worlds in Denmark later this year in early September.  Great news Nigel – reading online about the World Champs I am trying to ascertain if you are in the younger age group race of 160k or the older age group race of 115k.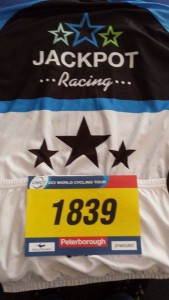 Cat Jameson has written a fantastic report from her outstanding performance at Challenge Salou last weekend here.
Keep safe.