Hannah Drewett was back out competing just two weeks after the Weymouth 70.3 with a WIN at the Hever Castle Olympic Triathlon.  Hannah was 10th overall (male and female) (BRILLIANT!) and has won the Castle Series for 2016! Simply superb racing Hannah!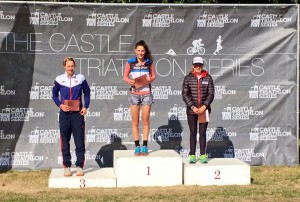 A little further south, possibly even a few degrees warmer it was the City of Stoke Triathlon on Sunday. Tom Bishop also came home with gold like Hannah podiuming alongside Thomas Davis and Stuart Hayes! Katie Jemima Synge also podiumed at the same race coming second behind Emma Pallant – that'll be stiff competition then! Congratulations to you both Tom and Katie!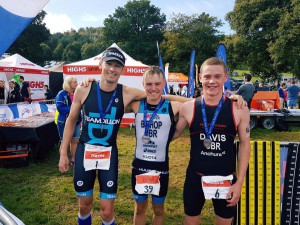 China Clarke has showed us his ability across all distances this year from IM Zurich in July to the sprint at the Brownlee Triathlon at Harewood House on Sunday.  China was 20th out of 834 athletes in the sprint distance! AND that is after a night on the tiles on a stag do – so the question is…could he have improved on his position if he had stayed at home and watched TV and not gone out…or could he have not done so well sat immobile and bored in front of X Factor? Really well done China 🙂 you have had a super season! But where is your selfie China with the Brownlee Bros?!