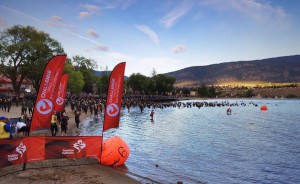 And news in from Ben Garrard across from the Big Pond:
Challenge Penticton Canada 3k, 120k, 30k. Penticton is a super cool location and was the home of IM Canada. In 2017 it will host the ITU World Championships in all race disciplines. 2017 in Penticton will be an amazing multi sport experience it's a great race location (get qualifying guys!).
All those pre-race nerves (I had a few having not raced long for a few years and not deciding until June to come and race) disappeared when the gun went off and the race is on. I swam a controlled 2 lap swim but was still pleased to find my way to T1. I had to dig deep on the bike and get my head sorted (unusual headache and stomach unhappiness) but I tried to relax, took on water, a little food and felt much better heading out on to the second lap. I rode really 'cruisey' knowing a 30k run could easily bring me down. By now the sun was firmly out and the temperature rising towards 80. I set off running and felt a million dollars, not something that happens very often. I couldn't have been happier with my run performance and apart from a little leg muscle discomfort in the final 5k I ran super strong and consistent and way beyond my expectations to finish the race off. I had an amazing week here in Penticton and thoroughly recommend the location and this slightly unusual race distance.
Swim 52:32 Bike 3:45:59 Run 2:33:09 Total 7:20:05 21st in AG, 98th overall
Cracking race Ben!