ITU Edmonton ladies were off on the sprint distance on our screens on Sunday evening GMT with Jess Learmonth leading the way in style on the swim and out into T1 in first position. A hiccup with Jess' helmet meant that she missed the front bike pack giving Jess and a 24th position and a speedy 58:34:30 but what a swim to be proud of – 9 minutes! Superb racing Jess!
The men's race was just has nail biting with Tom Bishop coming into his own finishing 5th (seconds behind Jonny Brownlee who won the race) – to explain: Tom's finish time was 52:10:20 – Jonny's 51:39:90. Tom put in one of the fastest 5ks of the day with 15 minutes dead on. By golly what a race!  Many congratulations Tom!
Adam Bowden, like Tom, was seconds behind the winners finishing 7th in 52:19:50 – this was racing at it's finest! Thank you for the spectacle!
Heading back to sunny England, Tom Van Rossum (TVR for short and TVR for speed) headed straight for the podium at the infamous Helvellyn triathlon at the weekend.  Even the Tour of Britain had a go at the climb 'The Struggle' yesterday. Whilst Wiggo did a Froomey in shocking conditions yesterday, TVR attacked the climb with clear determination…in his own words:
'After a typically slow swim for me, I moved up to 3rd place coming off the bike and held on through the run, narrowing the gap on 2nd place but coming up a bit short and finishing 3rd overall (Editor: YEY!).  The course is a brutal test, climbing up The Struggle on the bike and then exiting T2 to head straight up to the summit of Helvellyn via Swirral Edge. The unusual distances and route design make the race a tough but enjoyable alternative to the standard offerings on the calendar.'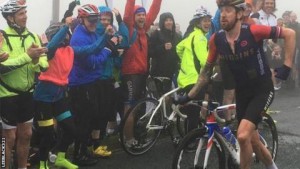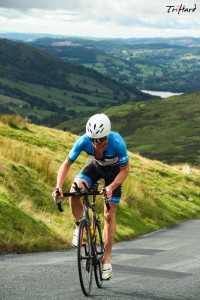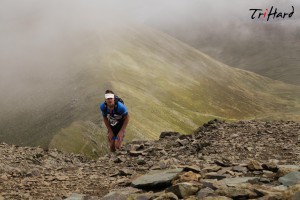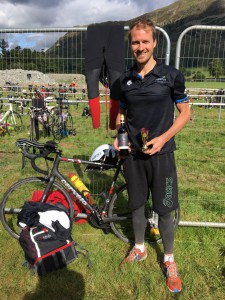 Katie-Jemima Synge bagged a WIN at the Bala standard distance race at the weekend! Katie finished in a spectacular time of 2 hours 7 minutes AND was 15th overall finisher 13 seconds ahead of Emily Whitmore! What a win and what a race! Tremendous going Katie! Enjoy the Erdinger!