One of our age groupers and a few elites headed to the sun and extreme heat of Cozumel for the ITU Grand Final and World Champs for the age groupers.
Ian Gilham raced in the aquathlon as well as the triathlon and reports back to us as follows:
'Started the week with a run out in the Aquathlon on Wednesday morning. Unusual format of a 2.5k run, 1k swim and a 2.5k run (due to there being no chance of a wetsuit swim) required a new skill in putting on goggles and swim hat on the run (and the unusual sight of people doing the first run actually in swim hat and goggles!). Had a decent race coming in 15th overall (nice one Ian!) though the heat and humidity by the end of the 2nd run was a wake up call of what to expect for the rest of the week. (Later that day the men's U23 race was delayed as the temperature was 34 degrees and way above the maximum temperature for racing!!).
Thursday morning brought race day – setting up in the dark for a dawn start. A large wave led to inevitable scrum around the buoys and missing my wetsuit came out of the water in 40th place (we heard back in Blighty that the water was 28 degrees!!). Managed to organise a group of 8 on the bike with another Brit, and 6 other willing workers. Had a great ride – at one point we passed a group of Mexican riders from a previous wave who jumped on the back of our group. My new best friend from the Cook Islands went back and asked them if they would care to take a turn – they declined so he told them to jeff-off – and being polite hosts they did just that and we didn't see them again – oh how we laughed!! Had a good run making up quite a few places but felt myself starting to "do a Jonny" with 1k to go so eased off a bit as I don't have a brother…. 21st overall out of 65 starters… Not long now till the Duathlon season……'
Congratulations Ian on your year so far – a busy one!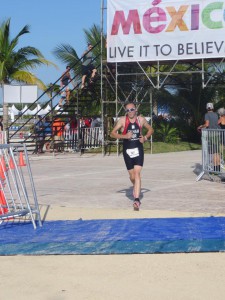 Then it was the elites turn which has hit headline news internationally! (about time!). Adam Bowden had a spectacular race finishing in 10th in 1:47:55 – just less than a minute behind Henri Schoeman. Adam ran a 31 min 10k.Just fantastic!
Tom Bishop was also out in force finishing 33rd but just less than 4 minutes behind the race winner – times put things into perspective and just how fast these elites are going.  Tom was 6th out of the water ahead of the usual Richard Varga – a tremendous feat!
Jess Learmonth held her own in the ladies elite race with the fastest swim and third fastest bike leg.  Jess finished 30th in 2:02:55, just 3 minutes behind the winner Flora Duffy. Simply brilliant racing Jess!
Back in sunny Yorkshire it was the annual Ilkley Triathlon and it was a WIN for Tom Linton-Neal.  This was Tom's first triathlon 4 years ago! Awesome bike on the tough 3 lap course which includes an infamous hill!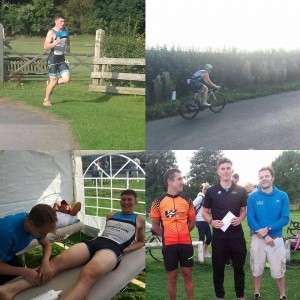 Mika Brown podiumed (silver!) in his age group at the same race and finished 5th overall! Mika had one of the one of the fastest swims of the day.
Matt Wilson scored a 5th in age group (same age group as Tom and Mika) – welcome back Matt!
Craig Boggon headed down south back to his home town of Gloucester for the Newent Triathlon:
'I had my last tri of the year, a local one back home in Gloucester and at my old School. Newent was the first triathlon I ever did at 16 years old with a few school friend, 400m swim, 18km bike and 5km run. Back then my swim time including run to transition was 07:46. My cycle on the faithful hybrid was 38:26 including T1 and the Run was 19:02 including T2. Overall 40th in a time of 01:05:14. Fast forward 6 years and they'd gone back to fully manual timing system (which kept this event cheap!) Swim was 5:45! Bike on the TT including T1 was 30:46 and the run including T2 was 16:48. Overall 2nd in 53:19. So a little bit of an improvement… and 1:50 from first and 1:52 from the course record… I'm knackered though! It's been a long season!'