Tim Ashelford took silver in his age group (50-54) at this weekend's British Triathlon Championships at Liverpool finishing in a superb time of 2:07:15 including a fast 37 minute 10k (and a fast swim of 21 minutes, and bike of 1 hour 3 minutes!).  Fantastic racing Tim – it's been suggested you have your own podium page 🙂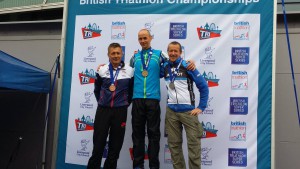 Back in Yorkshire at the Castle Howard series, we had three Jackpotters racing at the standard and middle distance races.  Cat Jameson came home with yet another win at the standard distance (Cat also needs her own podium page!), a full 15 minutes ahead of the next girl and in the top ten overall and with one of the fastest swims of the entire race.
Max Hazell was 2nd overall in the same race, just over a minute behind the race winner.  Superb results from both Cat and Max!
Then to the middle distance race at Castle Howard, The Gauntlet, where Colin Hill showed the young guns just how it is done.  Returning back to running after an injury, Colin stormed through the race taking silver and finishing in a time of 4:33.  Andrew Whiteley took 5th at the same race not far behind Colin (flying bike time Andrew!).  Some exceptional racing…Jackpot certainly made it's mark this weekend at Castle Howard.