It's been a busy weekend at Jackpot HQ…get comfy with a mug of tea for this week's events…
GENEVA 2015 – four of our Jackpotter qualified for the ETU Sprint Triathlon in Geneva which took place in ridiculously high temperatures on Friday. To quote Chris Brown's own experience of the race, 'swim was ok, stress free, bit choppy in places (every now and then you reached out and caught fresh air), bike was good (hill pretty steep 9-10% x 3) but also short, then the usual farce on the run, felt like having a heart attack for the first kilometre, walked four times, but by then was 'in' to enjoying the race to the best you can in those temperatures.  Didn't help by being held for 30 minutes in the mid-day sun in (black) wetsuits in the starting pens.'
Mika Brown didn't like the hill in the race one bit and finished 21st in age group, below his usual standard but still in a fast time of 1:10:58.  Keiran Hill was 14th in age group and finished just ahead of Mika in 1:09 dead on but needed medical assistance after the race due to the searing heat.  Claire Pickersgill claimed 17th in age group after a battle in the violent swim, Claire had one of the fastest bikes from the ladies on the day. We understand that Claire has since biked the 124 miles around Lake Geneva!
Well done to Chris, Mika, Kieran and Claire 🙂
Then back to Yorkshire where the heart of Jackpot Racing lives for the annual Ripon Triathlon.  Jackpot came home with the team prize – fantastic! And we had a few age group Gold, Silvers and Bronzes also: Andrew Whiteley flew into the finish as 5th overall and 3rd in age group with a whopping 2:04:50.  Alistair Cooke was not far behind in 2:07:50 and 2nd in age group. Tim Ashelford did his usual fast speedy thing with 1st in age group just a few seconds behind Alistair. Matt Pears, 3rd in age group (2:10:24), Rich Knell-Moore 2:12:28, Jenni Muston pipped into 4th lady overall and 2nd in age group in 2:22:53 (time to learn how to take off a wetsuit Jen without sitting on the ground to take it off); Matt Wilson 2:25:59 with a ridiculously fast bike!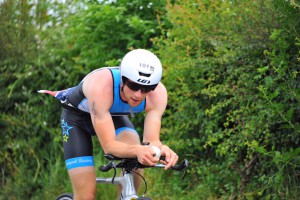 CHALLENGE ROTH…he is not called TVR nor likened to a motor car for nothing but Tom Van Rossum had the race of his life yesterday finishing in 50th position at Roth in a huge 09:7:35 – absolutely tremendous going Tom.  You really are motoring…
Then back to Geneva for the ETU Elite Race where the Bishop brothers were in action still in very warm temperatures.  Tom Bishop popped a fast 5th position, just 30 seconds behind the winner in a time of 1:53:22.  David followed Tom in with 1:59:34.  Fantastic set of results 🙂
And finally to the Jenson Button Trust Triathlon in Derby where Adam Bowden took the win! And what a photo!!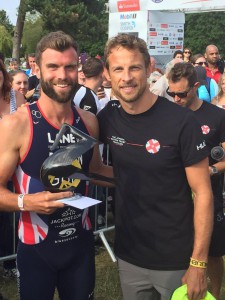 And Hannah Drewett took home bronze! We are awaiting official result timings to be released…in the meantime here is Hannah with her prize: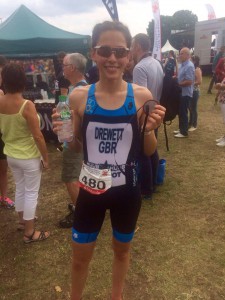 A fantastic weekend of racing…