…a quiet one for us this weekend but still with podiums…#podiumitis
Kieran Hill took the win at the Crickdale Sprint Triathlon before heading out to Geneva this week for the European Champs alongside Chris Brown, Mika Brown and Claire Pickersgill.  Kieran beat the course record by over a minute…that was including an extra 4 lengths in the pool he was loving the race so much!
The Marmotte en France saw Richard Knell-Moore and Nigel Ould amongst the 4500 finishers from 7500 starters.  Temperatures were hitting records including 44 degrees at Alpe d'Huez!
Eddie Evans powered also to gold in the 3/4 road race! Cracking photo Eddie!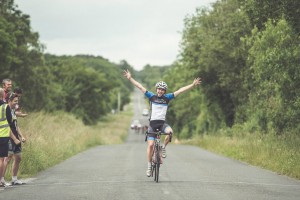 And late news from the Otley 50 mile Time Trial from Sunday 28 June where Tom Van Rossum smashed out a 1:49 coming in 6th position; Rich Knell-Moore a 2:01;  David Morley 2:07.
But so the title suggests…more is to come, a whole lot more this coming weekend as we head to the Euros at Geneva, Challenge Roth and the infamous Ripon Triathlon.  Good luck to all or our athletes 🙂