Afternoon! Here we are again 🙂
Let's head straight to Wasdale where our man Neil Midgley has not long come in from the climbs and peaks of the Lake District, scoring a very highly commendable 14th overall at yesterday's inaugural Wasdale X – the hardest long distance course in the world. The race is advertised as 'at 140 miles (226km), with a record breaking 16,994 ft (5,180m) of ascent, Wasdale X is the Ultimate Triathlon'. Starting at 0330 hours on Sunday morning, we understand that the swim was halved due to cold conditions (one swimmer was wearing two wetsuits) (I would still be there in T1 taking them off).  We are yet to speak to the legend that is Neil – our congratulations go out to you Neil and a tremendous race and superb position!
Back to 'normal' distance…and over to Rutland for the Dambuster Triathlon where two of our athletes put on yet another good show. Tim Ashelford won his age group in a very speedy time of 2:09 and was 27th overall out of 800 athletes.  Andrew Whiteley was back in action guiding Haseeb Ahmad to an outstanding and 13th in Haseeb's age group out of 115 competitors.

Then onto another podium at the Titan middle distance race and Max Hazell took Bronze! The race was set on the edge of the Brecon Beacons and featured a 4 mile climb in the race known as the 'Iron Mountain'.  Congratulations Max!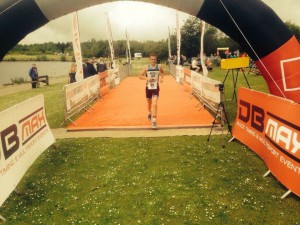 Finally back to Yorkshire for the Harrogate Bash – a 45 minute period of madness around the city centre on closed roads.  Two Jackpotters took to the roads, Will Cowan and Jenni Muston. The men's and ladies race became one!  Will was hindered from the start having to start the race at the back but finished in a huge 7th overall!  Seemed to me that the remainder of the riders sat on his wheel for the majority of the race.  Really well ridden Will. Jen had a self-inflicted panic before the race having realised that the battery operating her gear shifters was sat in the charger back home, a good few miles away from Harrogate.  Chris Brown to the rescue with a spare! The race was a little unfair for the two ladies who participated – trying to hang on to Cat 2 male cyclists did not mix. Jen won cycling most of the race on her todd and now has her points to race in the Nationals 🙂