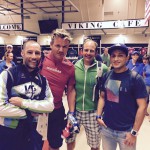 A short update this week, with only two Jackpoters racing. Is this another lull before the storm of the forthcoming relays? Perhaps.
Neither Ben Garrard nor Kathryn Dickinson were in Utah.  No, Ben took part in the Lake Stevens 70.3 which is in Washington and known as a gorgeous race venue and ideal for a family vacation, which is probably how Ben got it past the missus. He also got to meet a celebrity triathlete.  Can you spot him? Answer below*
Once freed from the petticoat strings, Ben put in an excellent day's effort.  A 31:40 swim put him in 19th position in AG.  One scenic cycle and not a little effort later, Ben was up into 14th place with a 2:45 bike.  On to the run, Ben produced some consistent splits and even managed to negative split the latter stages for a 1:41 overall split, putting him in 16th AG and a decent 72nd overall!
Back in the UK, Kathryn was in action at the Salty Sea Dog triathlon (fresh from competing in her first Crit race during the week and finishing as first lady), starting on Boscombe Beach.  The, obvious, sea swim gives way to a bike course with a short but steep climb up the cliff.  The run, on the other hand, is pan flat along the prom.  That comfortable run (if running can ever be comfortable) is just what Kathryn's poorly ankle required, allowing her to place 6th lady and 1st Junior – Whoop, whoop.
*Ben Bigglestone