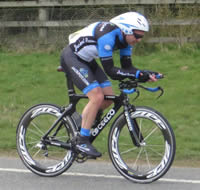 Name: Ben Garrard
From: Selby
Favourite Discipline: Cycling
Favourite Race: A168 Walshford to Boroughbridge loops with a brick run
Best result: Alpe d'Huez Triathlon: Beautiful and Brutal
Profile:
I have been playing this game for the last 18 years; always riding like I've stolen a bike, to make up for a slow swim. I've represented GB as an age group duathlete in Calais and Rimini, raced Sprint, Olympic, Half, Ironman, Off-Road….I'm still trying to work out what is my best distance. When I hang up my whistle (I'm a PE Teacher) I'm off for a World Tour of 70.3 races.