Let's kick off in sunny Lisbon where Tom Bishop, Heather Sellars and Jessica Learmonth were racing on Saturday in the elite races and Alistair Cooke in the Age Group race as part of the ETU European Championships weekend. Tom finished as 3rd Brit with a fantastic swim coming out of the water in 7th, just seconds behind the infamous Richard Varga, then notching up a few places to 4th on the bike with after riding like the wind for the team, and finally finishing in 19th, just over two minutes behind the winner Gomez. A tremendous race.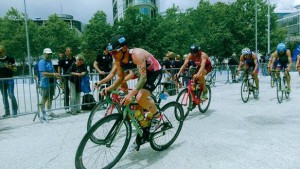 Onto the ladies where Heather Sellars finished as 2nd Brit home and 7th lady, just over a minute behind the winner and team mate India Lee.  You must be pleased with that performance Heather! Jess finished in 20th position, quoted as a disappointing day for her and gave it her all – still an exceedingly fast race Jess! 🙂 A huge well done from Jackpot HQ!
Alistair Cooke had the race of his life in the standard distance on Sunday at Lisbon.  Against high competition, Alistair popped a 22 minute swim, a 1:05 bike and a 35 minute run (FAST!) and finished 12th overall in the 35-39 age category and 4th Brit home. A fine race Alistair!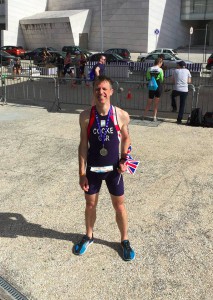 Back in Little Britain and down to Bosworth Water in Leicestershire and we have a WIN! From Claire Pickersgill!  Claire stormed to victory over the (long swim long bike) standard distance race and off road run run in road shoes (some lovely blisters to match) leaving competitors in the dust. Claire finished over 6 minutes ahead of the 2nd lady!  What a race! Just superb racing! Next race for Claire will be in Leeds in a couple of weeks. Watch out ladies 🙂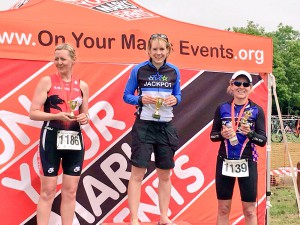 Ian Gilham in search of his place for Kitzbuhel for the 2017 European Champs nailed it at the Shropshire Triathlon on Sunday finishing 2nd in his age group in the standard distance race…'had a good swim (found some good feet for a change) solid bike but the wheels came off for a bit on the second half of a hot and hilly run – tried to chase down the leading guy in my age group but happy to hang on to my second place in the end'…GREAT GOING IAN! And congratulations on your place for Kitzbuhel!
All the shires – Tim Ashelford was 2nd overall at the Hertfordshire standard distance Triathlon on Sunday! Racing around in a Number '1' was not adding too much pressure to his day!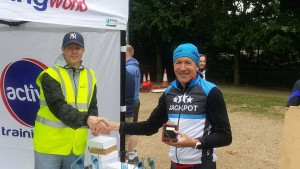 Finally, Tom Linton-Neal (with a nicely mending broken toe if you will remember the x-ray image) raced to gold at the Chorlton Cross Triathlon.  The course was a 750m in Chorlton Water Park, a 15km off-road bike followed by a fast 5km run.  Tom finished 2 minutes ahead of second position!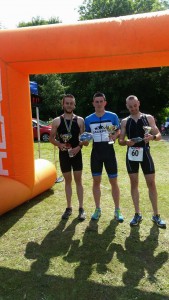 A great weekend of Racing for Jackpot. Next week…news from the Duathlon Champs in Spain!