Hot racing and hot sunny weather made for good racing for Jackpot over the weekend.
Ian Gilham was back out again (I think that is the 4th weekend on the trot!) – this man will travel.  Blenheim was his race of choice this time:
'AG 2nd at
Blenheim Sprint distance
yesterday in a time of 1.22 – my second 2nd place in a week… Grrrrrrrrr. Had a decent swim in a mixed age group wave,  dodged the assorted mountain bikes and choppers on the bike course and managed to make up a few places on the run.
Raced at Blenheim this year as it was exactly 10 years ago that I did my first ever triathlon at Blenheim – came 89th in my age group then in a time of 1.42, so 10 years older, 20 minutes faster and 87 places higher. Shouldn't' complain I suppose!!'
Katie Synge raced in the ladies elite wave coming home in a tremendous 5th overall!
Pleased as punch in the photo below!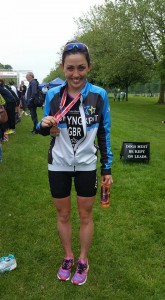 The mens elite race saw 4 of our Jackpot elites in a cloud of dust.  Aaron Harris finished just a minute (59:12)  behind the winner and Lord of Triathlon Alistair Brownlee – WOW! David Bishop finished 4th, just under two minutes behind Alistair in 59:47…nice work David! Next in and close to David was Chris Perham in 7th position in 1:00:28 and finally Jack Hall in 22nd and 1:03:03.  Fantastic racing!  Would have made for great spectating.  A league of their own!
Let's now head to Spain where the
ITU World Duathlon Championships
took place over the weekend.  Craig Boggon and David Morley represented GB in the standard and sprint races respectively. Craig has sent news back to us of the race:
 David and I were in Avilés world duathlon champs today (Sunday). David had good fun on the draft legal bike course. Unfortunately his lack of run training (due to niggling calf injury – and walking 120km of the Camino De Santiago). This meant he wasn't able to put his biking abilities to their full use and was in the wrong pack! He finished a respectable 32nd in his highly competitive age group.
For some reason the organisers seem content on giving heat stroke to the standard distance athletes! This is three world championships in a row where they have set the standard athletes off going into the hottest point of the day! And a longer course meant for a tough day! I (Craig) had a strong first run but onto the bike and a lack of hydration caught me cramping in calf's and shins! Still pumping out the 2nd fasted bike splint in the age group! Cramping badly going into T2 I managed to hold on for 4th! Hard day in the heat!'. Great going both of you.  We do have a photo of Craig's sunburnt back – awaiting permission to post!
Next up – one of the ones we have all been waiting for – LEEDS!  ITU next weekend!