BRITISH ELITE DUATHLON CHAMPIONSHIPS took place on Sunday 29th March at Rockingham Motor Racing Circuit with two podium finishes from our elite men, Adam Bowden and David Bishop.  Both men put in sterling performances against a highly competitive field in tough weather conditions.  We are awaiting confirmed times for the race which was changed to a 10k due to the weather….great going chaps 🙂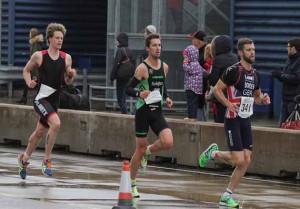 Over to AUCKLAND for the ITU race where Tom Bishop showed Mario Mola how to race finishing two places ahead of the Spaniard and just 2.5 minutes behind team mate and winner Jonathan Brownlee!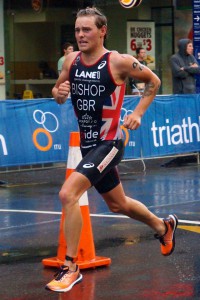 Back to the UK and up north to STOKESLEY and the DUATHLON where a few of our Jackpotters raced their hearts out.  Tom Van Rossum popped a huge top ten placing coming in 6th and in a time of 1:28:20, just 3 minutes behind the course record over the 5k-35k-5k course AND 4th in his age group AND with bike mechanical issues.  Richard Knell-Moore came in 1:33:27 and Eddie Evans close to Rich in 1:33:36 – that will have been a good race to see 🙂  Tom Linton-Neal and China Clarke also had a smackdown with Tom coming in in 1:37:07 and China 1:37:57.  Francis tested his injury out again over part of the race – this man is coming to get you.
As always, we can rely on China for photo footage – the day we do not have one will be a worrying day: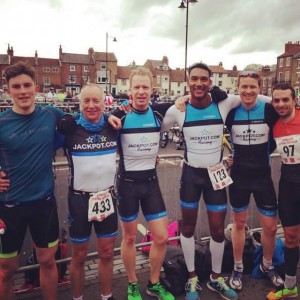 Further north again up to Scotland for the Worlds qualifying race at STIRLING DUATHLON where our own David Morley put in pardon the pun a sterling performance with a 5th in age group position in a time of 1:22:32 over the sprint distance course, just 4 minutes behind the winner in Dave's age group. Conditions again were shocking – really well done Dave!
Seems the men have pipped the ladies this weekend on podiums – but the ladies were out training hard in treacherous conditions such as in the National Park at the Nidderdale Sportive #moremilesmoresmiles