Fernando, Dancing Queen, Take a chance on me.  Yes folks, Jackpotters were all playing the best of Abba while web pages refreshed to follow Richard Knell-Moore on his Ironman Sweden in Kalmar in August. Here is what Rich had to say.
"Coming of the back of 2 years consistent Ironman training and racing, I felt ready for the challenge at Kalmar although life has certainly been doing its best to disrupt my preparations along the way. I was hoping to build on the back of a good performance in Copenhagen last year, aiming to find 20mins in order to get under the 10hr threshold.
Having a few injury troubles meant that I didn't know quite how I would go, but I decided to get on with it and enjoy the event.
If you haven't been to Sweden, it is highly recommended. A beautiful place and they really love this IM event. Kalmar is a small town, with a great vibe. I'll spare the tourist review, but there is a good reason why this event is so highly rated!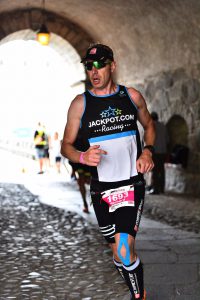 With a more subdued race start in Kalmar than other races, the rolling start swim sets off from the harbour, round and back up a canal, under some bridges with crowds right over you on the banks.  Under a last bridge and then fall into a very short transition. I came out with a respectable 58min swim, which considering some chop was pretty pleasing.
Now the bike was the primary reason for going to Sweden as it's quite flat. The only risk is the wind. I settled into the bike quickly, heading out over the 6km long bridge to the neighbouring island, where you turn South and into some headwind for 40km, then bash across and back north with a healthy tailwind. I was getting pretty annoyed with a load of drafters, especially as we were flanked by officials that failed to act at all. I avoided it at first by intention, then by accident as my saddle moved as I hit a speed bump. (That's what you get for tinkering with things a week before you go). On the plus side, I wasn't getting irritated by the drafters any longer.
You then turn and head back towards Kalmar, climbing over the island and then over the bridge into what is now a fair headwind. The speed dropped from 38k to 26k. Trying to hold onto the speed with-out going to deep into the energy bank.
The second loop heads North and is a lot more sheltered on the main land. I picked up some food and pressed on, enjoying the ride. I then managed to pick off a number of the riders that had been drafting earlier.
Back into transition, a great feeling of being only a limited number of bikes already back after a satisfactory 5:03hr split. Despite being slightly down on what I had planned for, I felt pretty good leaving T2. The marathon was where I had planned to make the gains over 2016.
You head through the crowded town streets for 3k and then it is a 3x lap course. In-escapable crowd support, with "heja, heja, heja" ringing in your ears it's almost impossible to not set off to fast.
Now, I'm not a fan of Powergel gels which caused some challenge as I couldn't stomach them and I somehow lost the gels I had left in my race belt. Made it round the first lap with a nice pace, moving pretty well. Second lap felt long, and some more extended aid station walks trying to get energy consumed. An interesting choice of crisps, lemon slices and pickles weren't much help and nor were pieces of bagel. Bloody impossible to eat!
Fabulous support from the family had me back on track, through the grandstand and out for the final lap. The suburbs you head through really do like a street party and there were some many going on, that it was a massive boost.
Managed to pull the run back into shape and ran the last 4k. Heading into town had me picking the pace up, enjoying the event, the crowds and support to cross the line in 3:57.
Despite being a tantalizing 5 mins over the 10hr mark, I was well pleased with the days work. Perhaps the ice bath wasn't the best idea as I could not warm up at all; and felt dreadful for a while. Once warm though, fed and a couple of beers, the hero hour party was something else!
About that 5 mins – see you in 2018 Kalmar! Anyone?"
Fantastic effort and well done Rich.