Ironman Wales took place on Sunday 10th September. Jackpot's Tom Van Possum was showing fine form leading up to the event with a win at the half distance Steel Man.
Sequel's are always  a difficult act to follow… Tom had previously done Ironman Wales in 2015 on what was a very eventful day. Here is how the story on his return unfolded …
An epic report for an epic day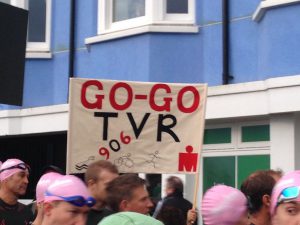 With a return to injury free running and a new found love for swimming early this year, I decided to have another crack at Ironman racing, and return to Tenby. The tough bike and run courses play to my strengths, but really, I had unfinished business, and the lure of the scenery and local support around the town was too much to resist.
Race plan
Even Ironman races are won and lost by seconds, and I strived for the marginal gains to get me round the Tenby course as quickly as possible. I stacked the cards on the offensive side and went as light and aero as possible. On went the trip socks, shoe covers and non-flapping race number to improve aerodynamics. Bottles were left off the bike, and I rode with only half a bottle of super concentrated bottle of fluid nutrition, intending to pick up water bottles on the course. Vitally, I shed some weight and was 4 kg lighter than I'd raced at before.
The race
Wind was forecast for race day, not just a bit of breeze, but 45 mph constant winds and gusting faster. And rain. Rain was due to arrive at 1pm, just as I was expecting to finish the bike.
Every time I've recce'd the swim at Tenby conditions have been fantastic. This year, I felt confident in my swim and knew I could get round the distance and still feel fresh for the day ahead. I planned to follow feet and swim within myself. Sea conditions looked good as we stood on the beach waiting for the gun to go. It's a rolling start and I started well, keeping the pace controlled and not racing off too fast. I did a lap of the swim course the day before to familiarize myself with the buoy locations and identify some landmarks for sighting the route. In the wash of race day, these landmarks were hard to sight, with pink swim hats bobbing up and down in front and I struggled to follow a straightline to the first buoy. The rest of the first lap was easy enough to navigate and I was doing a good job of following feet.
Ont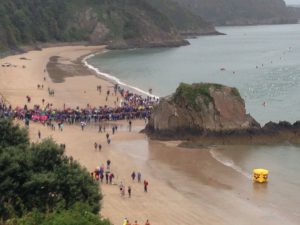 o the beach for the Aussie exit at the end of lap 1 and the clock said 30 minutes. Pleased with that. I did a much better job of sighting the first buoy on the second lap and swam a lot straighter. But after turning at the first buoy, swimming felt different, The wind had picked up and there was now some serious chop to get over on the long stretch to the second turn. Even though swimming got slower, I didn't feel like I was having to swim harder and was still finding it easy to follow feet and nip round people when a faster swimmer came nearby. I swam 32 mins for the second lap, which indicates the slower conditions. My overall swim time was 62 mins, which is a PB for me in IM swims, for what felt like the least effort. Similarly paced people lost 3-5 minutes between the laps so with better navigation on lap 1, I would have been close to a 60 min swim.
Transition
They say transition is the 4th discipline of triathlon and this is even more so at Tenby. After exiting the swim, there is a steep uphill path to the road, followed by a 1km dash across the town to the transition area. Despite the increased wind, there was still no sign of the rain forecast for later in the day. Going back to my earlier comments about planning to race light and aero, this raised a dilemma. Light and aero aren't terms that are associated with windproof or waterproof clothing. Despite having a pair of arm warmers in my transition bag, I shelled the idea of taking the extra clothing, believing the rain would hold off long enough for me to be off the bike in the dry, and even though it was windy, the temperature was fine.
Bike
Lap 1
Knowing that the hills at Tenby are stacked in the last 2/3rds of the ride, my plan for the first 1-2 hours was to ride steady and not push the power too much, intending to ride the final 2/3rd's with a higher power than the first. The road to the first turnaround point is rolling but there are no major hills to note. The wind was blowing hard, which made for a stiff headwind going west to Angle. As the road dropped down to the beach at Freshwater West, the full force of the winds blowing from the Atlantic were slamming from the side and just holding the bike in a straight line was hard going. I was riding with a Zipp 404 on the front and an 808 on the back. I've got no idea how the guy near me with a disc and 808 on the front managed to stay upright. It was adbsurd.
After 2 hours I was still feeling really good, my power numbers were less than I'd planned but as I was constantly passing people I didn't feel the need to push any harder. By the time we got to Tenby for the first time at about 110km, I'd passed 2 of the 4 female pro's and a couple of the male pro's. By now though, it had been raining for about an hour. And when it rains in Wales, it's not a slight drizzle. It was lashing it down. Combined with the gale force winds, the conditions were some of the worst I'd ever ridden in. It was one of those days where you would b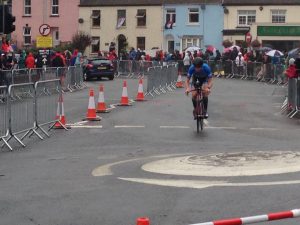 e making alternative plans if you had intended to ride, and if you were riding you would be hiding in a cafe with a coffee and a scone. After it started raining, it wasn't long before I started to get cold. After half an hour of being cold, I was shivering so badly that when descending holding the base bars, the front wheel was shifting side-to-side. As the road dropped in to Tenby and we passed transition, all I could think of was my arm warmers sitting in my bag. Damn. If only light and aero was also warm and dry. Into the headwind again from Tenby and I knew it would be about another 2 hours until I'd finish the bike leg and would be able to get a reprieve from the suffering. At times there was some brief rest bite fro
m the rain and it would ease of for short periods but just as I'd get dry, another downpour would start again. In fact, the greatest relief from the cold was the need to piss, but even this was short lived as the warm flow down my legs was quickly chilled again by the wind!!!
It was by far the grimmest experience of cycling I've ever endured and the idea of racing was out of my mind now, and it was just about surviving to get to the finish. A combination of the cold and nutritional errors caused by missing bottles and dropping food due to being cold and my energy was sapped. My legs had nothing to give and for the final 60km of the ride I averaged 170 watts, which is less than warm up effort! I was getting passed by back of the packers on their first lap and I was close to walking off the bike and pushing on the final climb out of Saundersfoot as my legs were cramping from the cold. On the final 5km downhill stretch to Tenby, I knew it wouldn't be long to until I could off the bike but the idea of running was not something I was looking forwards to.
I knew that Bron and family waiting in Tenby would be concerned about what had happened with my pace and as I saw them as I entered transition and made it clear what was wrong. I've got to say that their support was absolutely fantastic and they had the best supporter's banner for me in Tenby! Despite their feeling of comfort hiding onside the coffee shops around Tenby, I know their concern and anxiety from not knowing what had gone wrong was just as hard to deal with.
My total bike time was 5.58. It was slow. Slower than the recce ride I did 4 weeks previously in training gear. I lost 25 minutes in the final 65km's to guys riding a similar pace to me in the first 115km's (who also had the fastest AG bike splits.)
Run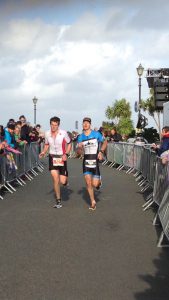 Obviously, my biking legs were gone but I wasn't sure how I'd feel running. I set off from transition at the pace I had planned to run at and didn't feel comfortable, but it never is after riding 180km. After 2-3km the road starts to climb out of Tenby and I realised at this point my running legs were no better than my biking legs. I couldn't hold the pace and as I tried to push, my legs didn't fight back. It was time to start walking and try and get some energy back. At the next aid station, I stopped and drank as much coke and red bull as I could pick up and drink whilst walking through.
This wasn't fun. It wasn't the race I'd hoped or planned for. But the idea of giving in so soon didn't seem right. Ironman isn't supposed to be easy and I've got far more admiration for competitors taking 15 hours than those going sub 10 and chasing victory.
The run course is 4 laps of just over 10km, returning to Tenby at the end of each lap. As I approached Tenby at the end of the first lap, I had serious consideration to calling it a day. As I struggled through town and saw Bron and family, I stopped for a chat with them on the high street. It was clear to them that my day (in terms of placing) was done and we shared the sense of my disappointment that it wasn't going to be the result that I wanted. I carried on and was still taking full advantage of the caffeinated and sugary refreshments at the aid stations to wash down the pro plus I was carrying. Laps 2 and 3 were not much better than the first lap. I'd got into a rhythm of walking through every-other aid station for a picnic and running the bits in between. I was able to run at a fairly decent pace but the uphill bits were still very hard. I don't know if it was the fact it was only 10 km to go that i
t became mentally easier, but by the final lap, I was able to run the whole uphill from Tenby. At this point I spotted a familiar set of faces on the side of road, and crossed over to give the Coleman clan a hug and a thank you for their support. It was grim to be racing but it can't have been much better to be supporting in such horrible weather. Again, a big thanks for making the journey down to Tenby and the support all day.
In the end, my split for the last 10km lap was 5 minutes faster than each of my previous 3 laps. I crossed the line with a marathon time of 3.35, my slowest at any Ironman. My overall time was 10.45, my slowest to date and my worst IM result, but one of the performances that I'm most pleased with. The conditions were widely described by people as being biblical, and some of the worst at any Ironman ever. On reflection, I should have dressed for the conditions, but I took a big risk chance  sticking to my plan. On another day, the rain would have held off and the dice would have landed in my favour. But that's the beauty of racing and we get stron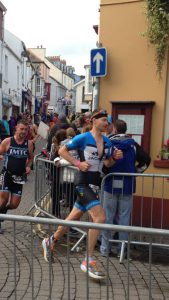 ger from the mistakes we make.
Later that same evening, whilst re-feeding with fish and chips, we were looking for the next opportunity to race, but sadly both IM Italy and Barcelona were full for this year, so it looks like another season of IM training and racing for 2018. Roll on another iconic race and a holiday to Nice in June.
Welldone Tom, we all look forward to following you on your next Ironman.