Let's head straight to Tenby…where Tom Van Rossum (TVR) had the race of his life yesterday at IM Wales and is currently sat waiting patiently or not so patiently to hear if he has got a slot for the worlds in Kona. WOW! Tom on his bike sends fear into athletes…and by golly did he put his foot down yesterday.  Finishing 3 minutes ahead of his target time, Tom came out of the swim in 1:11:06, the bike 5:39:27 moving him from 284th on the swim to 37th on the bike (!) and the run 3:21:57 moving Tom further up the field again to 24th overall and 6th in his age group.  What absolutely fantastic racing.  We really hope you get that slot for Kona…we will keep you readers posted!
And then all hail Max Hazell!  AMAZING race at Challenge Weymouth yesterday…first long distance triathlon and he scores a 9:40!!!  Max was 12th overall and 1st in his young spring chicken age group (18-24). No official results as yet as Max's timing chip failed during the race…is this the start of big things to come Max?
Then back to Yorkshire, sun filled Yorkshire and the Leeds Triathlon where Colin Hill was out racing again! Colin finished 5th overall and 1st in his age group at the standard distance race at Roundhay Park.  This was just two minutes behind the leader. Fantastic racing Colin! Again!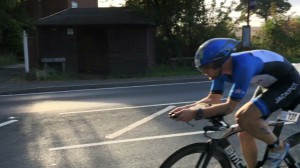 Saturday saw Ady Stott fly the Jackpot flag at the Nidderdale Sprint triathlon.  Swimming 2 lengths too many and needing counting lessons, Ady finished 6th overall and 2nd in his age group (40-44).  Apparently the bike was too twisty and potholey for Ady!
Next weekend brings yet more racing…we head to Chicago for the Worlds and Hartlepool for the sea triathlon.