Saturday saw some fine racing from our athletes down at the Clumber Park Duathlon which was a qualifier for the World Champs in Spain in June for the standard distance and a qualifier for the Europeans for the standard and sprint distances for 2017.
Dry but cold conditions saw Claire Pickersgill out the blocks first over the sprint distance.  Claire shot off in bullet style fashion over the 5k run into an enormously quick transition (something you could teach your team mate Jenni about!) before heading out onto the bike course.  This was Claire's 3rd outing on a brand new bike after snapping the frame of her beautiful now broken bike from throttling too much power through it up a hill on a recent training ride.  Disappointed with her bike section, Claire had two fantastic runs which should give her great confidence for Kalkar next month.  She finished 3rd in age group and 24th overall 🙂
Onto the standard.  Jenni Muston had a great race, finishing 9th after the 1st run, 5th after the bike, 3rd for half of the last run then PIPPED into 4th lady overall by 8 seconds finishing in 2:16:14.  Jen was 1st in age group, won a case of the Erdinger beer and ate coffee and walnut cake as therapy for missing out on 3rd as team mate Claire had so well put it.
It was Craig Boggon's first race back in the UK after spending many months in Australasia. Welcome back Craig!  Craig finished in a splendid time of 2:04:03, 34th overall and 2nd in a very tough and fast age group.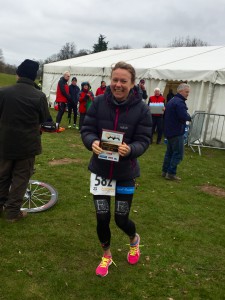 Back up to Yorkshire and Richard Knell-Moore and Ady Stott went head to head, near enough, at the Harrogate Nova 24.  Rich popped a 1:01:02 and Ady a 1:01:08! Fast as!
Nice racing 🙂