Sunday 27th July saw tremendous results from Jackpot Racing athletes in Zurich, participating in Ironman Switzerland on a challenging course. Five Jackpot athletes shone in the Swiss climes with outstanding performances:
Eddie Howarth, 10:09:18 – 49 in age category (35-39), 224 overall
Mathew Pears, 10:33:35 – 40 in age category (25-29), 392 overall
Neil Midgley, 10:48:57 – 108 in age category (30-34), 524 overall
John Swallow, 12:59:49 – 211 in age category (45-49), 1620 overall
Gary Simpson, 14:09:00 – 262 in age category (45-49), 1917 overall
Congratulations to you all – it was great tracking you from afar!
Andrew Whiteley meanwhile raced to first place at the Bedford Classic Triathlon, working hard on the bike after catching two 'outrageously fast swimmers', winning in 2:02:49, with a massive lead of over 4 minutes of second place! Fantastic going Andrew! Looking strong below!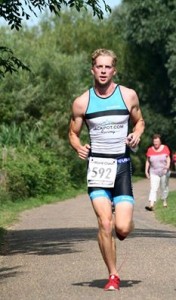 Post script: Jenni Muston took part in the 5k swim in Nottingham – the 5k measuring 3.4m (!) was completed in 1 hr 37 mins – timing chips failed – no official results.