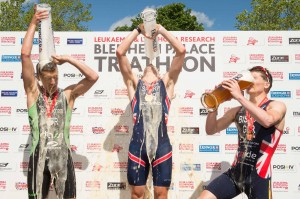 David Bishop raced his way to second position in the Jenson Button triathlon on 12th July 2014.
For anyone who doesn't know, the Jenson Button (yes, he of Formula 1 fame) Tri is fairly unique in that you race twice in one day. In the morning there are three eliminator super-sprint races, with the top athletes from each wave racing again in the afternoon over the full Sprint distance.
This is how the race went in David's words…
"I have always wanted to do this race – I loved F1 and Jenson Button, and I loved the super sprint / sprint eliminator format. There was a decent field in the end, including the likes of Chris McCormack and Will Clarke. I was expecting a tough race. I managed to get myself easily enough through the heats and even had a chat with one of my sporting heroes; Jenson on the run. He is a real nice guy and that was easily one of the highlights of my day.
"The final came around and I knew it was going to be tough race. The swim managed to separate things up a little and a small group of four got away on the bike, including myself, Will Clarke, Carl Shaw and Cameron Milne. It was a non drafting race, but the nature of the course (hilly and technical) meant that the TT boys couldn't get away.
"We all the hit run together and Myself and Will soon had a lead. I was feeling good so pushed the pace on leading the majority of the 5k. With 300m to go I tried to surge and drop Will, unfortunately he was able to counter my move and push on again himself. At this point my legs were beginning to fall apart and Will went on the beat me by just under 5 seconds. I loved the race. I got to race alongside three athletes I really look up to… Jenson, Will and Macca. It's not often I will get to do that again. The day was a really enjoyable day as well, so to finish 2nd place topped off a great weekend!"
Congratulations to David once again!