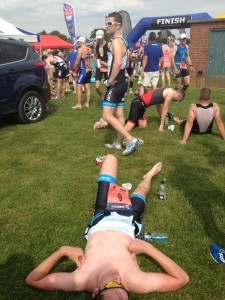 Jackpot Racing claimed many of the top places at Ripon triathlon on 12th July, 2014.
A hot Saturday afternoon's racing saw Andrew Whiteley claim second position with Jonny McLean, still smiling after his gold in Kitzbuhel, coming home in third position.
Off the podium, but still performing extremely well in a strong feild at the sharp end were Ton van Rossum coming home in fifth place following another outstanding bike performance and Colin Hill in 10th. Both athletes had expressed concerns over knees, ankles, calves and other leggy bits, so to finish in such good positions is even more amazing.
Mika Brown was the first man out of the water in 18:45, but was still chicked by 25 seconds. This was Mika's first ever Olympic distance race and perhaps his inexperience and the 25 degrees heat lead to him blowing up. "I loved every minute of the race," said Mika, "can't wait to do it again"
Jenni Muston, JR's sole female member, succumbed to her haematoma. Probably not helped by Chris Gorse punching it in the car on the way to the race in a desperate attempt to finish ahead of his beau.