Kieran Hill claimed a glorious 3rd (so close to 2nd – 16 seconds away!) overall at The Gauntlet (middle distance) at Hever Castle in Kent over the weekend.  Finishing in 5:05:13, Kieran had the fastest swim of the day!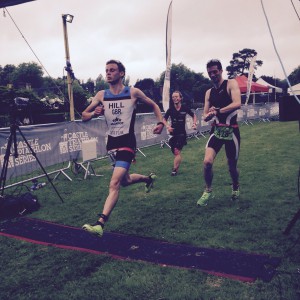 Back in sunny Yorkshire, three of our Jackpotters raced at the well known Ripon Triathlon – this year with the most entrants received yet. Craig Boggon, Tim Ashelford and Paul Freeman put on a good show for the spectators (I was watching!) under grey cloudy skies. Craig Boggon has written a super account of race day:
'Ripon was a nice 1300hrs start giving you plenty of time to have a good breakfast and get things sorted! I racked up and noticed the 3 guys who finished in front of me at Allerthorpe! It was going to be a fast race again! And there were other fast names and faces there! I just racked my bike up did my thing and chatted with Tim Ashford about the race and other competitors. Did a little warm up with the wet suit on and proceeded to the swim start. Speaking to Tim he suggested it best to start on the right as it was a clockwise swim, so I swam to the back of a little pack on the right hand side. As my training buddy said he felt that swim start was pumped with young testosterone (mainly from the 3 lads I'd race at Allerthorpe – it turned out 2 of them were just racing as a relay!). So the swim was off I didn't have a clue where I would end up and I knew my training partner would kick my butt in the swim (especially as he swam county when he was younger!). Anyway I pulled on, catching the feet and hips of as many people as I could. As per usual I had no idea where I came out but I knew my race started now! So I was quick out the wet suit and onto the bike! It turns out my T1 made me 22 positions (from 39th to 17). 53 seconds behind Tim at 22:01 and 2mins 50s behind my training partner! Paul Freeman, another Jackpotter, came out around 24:31. But I pressed on and had a storming bike (1:00:52- 3rd fastest biker!) in the wet and windy conditions. There was a tail wind on the way out and a head wind coming back in. As I was nearing transition I was happy that I hadn't yet felt my niggle in T1 and when on the bike (but I didn't have to stand on the pedals- as it's not very hilly!). So as I dismounted and ran to T2 I was in two minds to run or not to run and I was fine when I reached my shoes so I put them on and was out of there- all within 0:31 seconds. Tim came off the bike posting 1:03:41 and Paul in 1:03:42.
Ripon being a local big event for a lot of Triathletes a friend called out that I was now running out of the racing venue in 10th and told me to count down. I ploughed on through the run and only felt the calf niggle around the 3km mark but other than that kept good form and went for it. I made up three more positions but I knew that two people ahead of me were relay runners so that meant I was 5th overall. I kept pushing to attain my typical 4th position for the season but I couldn't manage, but over the moon with overall 5th, 2nd in age group and a time of 2:01:41. Plenty to work on with Aaron Harris for Liverpool. Tim Ashelford finished in a respective 19th, 1st in his age group in a time of 2:05:58. Paul Freeman completed the standard distance in 2:15:31, 58th overall and 6th in Age group. Unfortunately Tim and I were a little disappointed that there wasn't any group prizes! 
All in all a good event with the great organisation'.
TOP RACING Craig, Tim and Paul!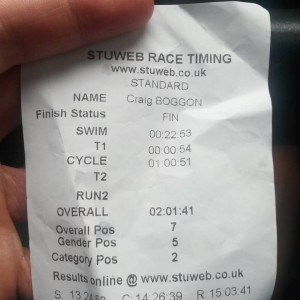 Katie Jemima Synge claimed 7th position at the Tartu European Cup in Estonia at the weekend finishing the sprint distance race in a speedy 1:04:59. Conditions look wetter than races in the UK in the photo! Many congratulations Katie!