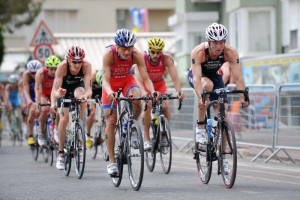 Adam Bowden has announced that he is joining the Jackpot Racing Triathlon Team (www.jackpot-racing.com) for 2015. Adam's first race of the season was the ITU World Triathlon Series Abu Dhabi two weeks ago, where he finished 20th, and second British finisher to Jonathan Brownlee (5th).
Adam has a more than healthy CV in the triathlon world extending back to 2008. Prior to his switch to swim-bike-run, Adam was also an international runner on the track, road and cross country competing for Great Britain. He still maintains the club records at Harrow Athletic Club for the 3,000 metre Steeplechase and the 10,000m. Just a few highlights from Adam's career so far:
Finalist at the Commonwealth Games for the Steeplechase at Melbourne 2006
2nd at the British Elite Duathlon Championships 2013
6th in the ITU World Triathlon Series in San Diego 2013
9th in the ITU World Triathlon Series in Yokohama 2014
7th in the ITU World Triathlon Series in Chicago 2014
Adam is currently focussing on qualifying for the Olympic Games in Rio, 2016.