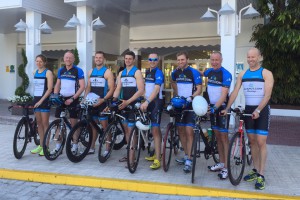 Sun, sea and sand….and sweaty Jackpotters took to the seas and streets of Mallorca on Saturday for the 5th IM 70.3.  One lady and seven gents from Jackpot Racing all gained cracking tans from the days efforts which resulted in one Jackpotter qualifying for the Worlds in Austria in August.
Ladies were first off with men following in age groups. Jen had a cracking swim for her though swallowed half the ocean which came to revisit on the way into transition.  Francis at the end of the race looked like he was covered in all the salt from the ocean and came a whopping 7th in his age category.  Colin Hill had planned a none-finish due to a plaguing calf injury but golly what a swim and bike! Chris B has vowed never to do another 70.3 – we are to remind him of this.  Matt Wilson did himself proud and is currently shopping for Matcha tea.  Dave Morley (chicked! CHICKED! ) had a super race and Eddie Howarth, star of the show, finished in a whopping 4.37 qualifying for the Worlds. Jen popped a 4th in age group missing 3rd by 60 seconds.  Matt Pears also had a superstar race coming 7th in his age category and is currently sunning himself somewhere on the island.
A few Jackpotters are still on the island. Dave Morley beat Brad up a climb today.  Made up for the race, didn't it Dave 😉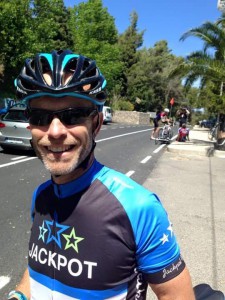 Back in Blighty and we have some podiums #kachinggg! Tim Ashelford was feeling mightily happy with his age group win at the Sprint Champs in St Neots on Sunday.  Great going Tim!  And Mika!!  Won the Harrogate Sprint Triathlon also on Sunday for the second year in a row.  The Jackpotters are starting to clamber for the podium prizes….