An exciting weekend was had over in Germany on Saturday for the ETU Duathlon Championships in Kalkar where two of our Jackpotters had qualified to represent GB both in the standard distance race.
Craig (to)Boggon was first off in the afternoon in the 20-24 age category so narrowly missing a podium…by 8 seconds!  But what a phenomenal race – Craig cracked the 2 hour barrier, cruising in in an overall time of 1:59:26.  Craig was 3rd Brit home which means he qualifies automatically for next year's ETU Champs.  Cracking race Craig!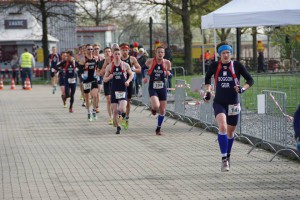 Then the weather turned – just for the ladies – the heavens opened.  Claire Pickersgill, racing on a dicey calf, put in a storming performance andsuch a strong bike (can't wait for the relays!) and punched home as 3rd Brit and 9th in her age group – again, Claire qualifies for the Champs next year.
Top racing both – safe trips home.
Matt Hallam who is making a sterling habit of racing every weekend popped down to Ludlow for the 'Storm the Castle Duathlon', sold on the website as follows:
'Storm The Castle – the UK's toughest duathlon – will be back in Ludlow on 17th April 2016.
We will be racing over the same course which means the opportunity to test yourself on some of the most stunning terrain that Shropshire has to offer and finish your race in the grounds of Ludlow Castle. Set in the picturesque market town of Ludlow and the stunning surrounding countryside of Shropshire & Herefordshire, it offers a genuine challenge to athletes of all abilities. Both the run and bike course are tough with sections of rolling hills mixed in with some seriously steep sections, making it arguably the UK's toughest duathlon.'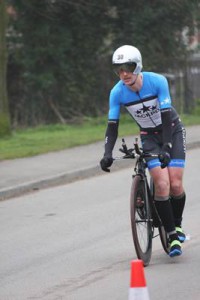 Matt finished 3rd overall, a whole 3 minutes ahead of 4th position over the 10k – 33k – 5k course!
Missed by me last week (so sorry Matt!), Matt also raced at the Dales Duathlon … and WON!  Is there no end to this man's talents?!  I am getting a repetitive strain injury from writing up all your wins and podiums!  The race as was a 5k road run, 20k undulating bike and then a 5k hilly trail run over near hull in the Brantingham Dales. Matt killed off the field and was 3 minutes ahead (habit forming!) of second place. Tremendous!
Lastly, HAPPY BIRTHDAY JESSICA LEARMONTH! 🙂