Adam Bowden took to the stage in Cape Town at the weekend in the sprint distance race, finishing 16th overall but just 54 seconds behind the winner Fernando Alarza (puts things into perspective doesn't it – just how fast!) in 55 minutes 6 seconds. Adam put in a 14:53 for the 5k run and was 9th fastest on the run! Ridiculously fast! Wonderful racing! Safe trip home Adam 🙂
Back in Yorkshire and Jackpot maintained their title at the City of York Relay yesterday over the sprint distance putting in a full 6 minutes on next team! Tom Linton-Neal put in a supersonic swim with broken toe (5:35), Dave Morley steamed away on the bike leg (33:27) and China Clarke on the run (20:06 – including an additional 400m after missing the finish line – unofficial time 18:29) – they were 1st in each of the disciplines.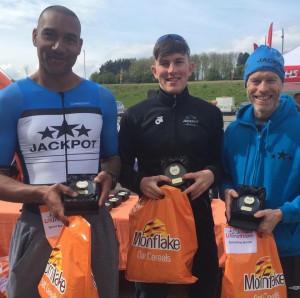 Then…guess who…yes, Matt Hallam was racing again!  At the Stockton Duathlon over the standard distance.  Matt popped an ultra speedy 6th overall and bronze in his age category.  Competition was high at Stockton – Matt ran a 35 minute 10k, biked a 59 minute 40k and ran a final 5k in 17 minutes. Absolutely tremendous racing Matt – quite a season you are having already!