Lost on the Mountain…could not be more apt after hearing about the trials and tribulations of our athletes Eddie Howarth, Richard Knell-Moore and Neil Midgley in the Wasdale Triathlon on Sunday 28th September…and the Wasdale Tri Facebook page posting 15 minutes ago, 'Huge Thanks Wasdale Mountain Rescue Team for assisting Norman off the mountain after he fell and injured'.
Still awaiting results as we understand some athletes are still lost in the fog at the top of Scafell Pike but according to Rich, the race went something like this:
'Swim was warmer and shorter than expected. Beautiful water, then onto a ridiculous ride. Not too bad over Hardknott pass and Wrynose on the way out. On the way back it was like riding into a wall. Eddie did some Jayne Fonda stretching before attempting it apparently. It must have worked though! There is a sneaky climb out of Gosforth that just about did for me, I honestly nearly didn't bother with the run/walk. Steady trudge all the way up, past the ******* training camp on the Corridor route. Got lost in the mist coming off the top of Scafell Pike, down and then back up Scafell which was effectively rock climbing. Lost the path a few more times, then just as you make it off the descent, you end up in peat bogs (which was fun). I'd already blown to bits by this point in time, enjoyed a little sit down, whist trying to keep food down. Then a couple of little crests and more descending all the way back past Wastwater. I managed a hobble to the finish line, which was lucky as Eddie had the camera out.'
We also await photos please Eddie!  And our good wishes go out to Norman.
Moving over to Alanya where Tom Bishop had a tremendous performance at the 2014 ITU Triathlon World Cup.  1st Brit home – PODIUM in British terms – and 12th overall, Tom finished in a time of 1:46:48, just less than a minute behind the winner and having one of the fastest swims on the day.
Meanwhile, back in Yorkshire Jenni Muston leisurely poled up for the start of the Autumn Skylark sportive of 115k.  Not appreciating the terrain and expecting to be home for lunch, the 8,500ft ridiculous up down up down up down up down up down 74 mile ride took 5.5 hours with Jenni allowing a (male!) cyclist from Lancashire CC to draft behind her up Cragg Vale 50 miles into the sportive.  Joint first lady back with her training pal 🙂
**** WASDALE RESULTS + SOME *****
Wasdale results and grimacing photos now in!  Eddie finished 11th in 7:36:01 and 2ND in AGE GROUP, Neil in 9:11:24 in 74th closely followed by Rich in 9:14:24 in 79th.  Clearly this was more IRONMAN than WasdaleMan!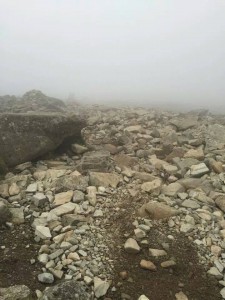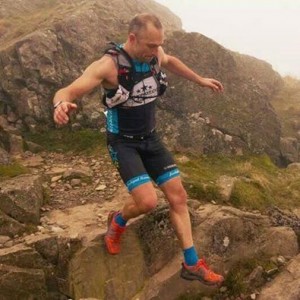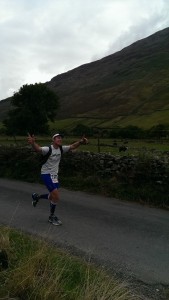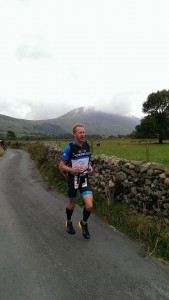 Then to Eton Dorney – Jackpot will travel far afield to claim these victories…Andrew Whiteley competed in the standard distance as a guide for Haseeb Ahmad who podiumed at the Worlds in London last year.  Haseeb won the vet 40 category assisted by Andrew and was 4th overall.  They came out of the water in 70th and ramped up a massive 65 places on the bike to come off the bike in 5th place then one more to 4th in the run!  Splits were as follows: swim 27:39, bike 58:40 and run 38:55….AWESOME!