Saturday saw the Dambuster Triathlon (ITU Worlds 2016 qualifier) at Rutland Water and with an ALMIGHTY win from Will Cowen by SEVEN seconds – pure racing right to the end! Will clocked an 18:31 swim over the 1500mm distance, a swift 1:03:20 on the 42k bike and an impressive 34:41 on the run – total time 1:58:21. Absolutely tremendous going Will!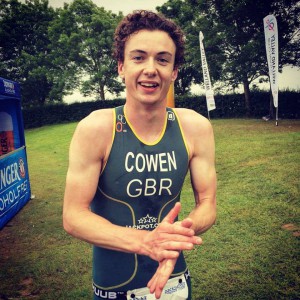 Kathryn Dickinson was robbed of her race with a puncture coming out of T1 and called it a day after a long, slow bike – BUT Kathryn had the 4th fastest ladies swim time 🙂 – next race Lady Kathryn!
Tim Ashelford also popped a podium at Dambuster in his age category (is it rude if I say c. twice the age of Will?!) winning the Vet 50 category beautifully! Stats for Tim: 23:32 swim – 1:09:06 bike – 37:25 speedy run.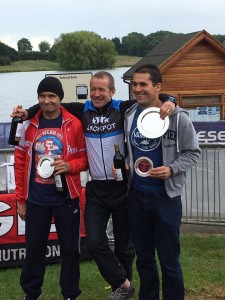 Great racing!
Back in Yorkshire we have Craig (to)Boggon unleashing his speed at the Allerthorpe Sprint triathlon – Craig gives us details of the race as follows:
'I was 4th today in a very competitive Allterthorpe Sprint tri! 1st position races for TFN and is going for the elite race in Liverpool and London! I was a second off him on the run! 17:09! My swim is usually the weakest! And with a mass start I didn't do too badly! I was 9th out of the water! 11:36. In transition I made 3 more positions. Then out on the bike I made up 2 more! I could see the next two blokes in front of me on the straights! It was flat, fast and there was no wind! I had the 3rd fastest bike.  (whoosh!). The run was much the same again! I made one more position before the turn around point! I could see 2nd and 3rd at certain points on the run! I pushed to have the second fastest run time at 17:09. I finished 4th overall! Coincidentally the top for were all 20-24! Hard race today! Very happy with my result and I know where I need to go for the Ripon and Liverpool!'
Best of luck with your next races Craig – tough competition at Allerthorpe – you came back with an excellent result!