On the same weekend that others were busy qualifying for some minor events like Kona and ITU World Champs, Chris Brown was busying himself closer to home qualifying for a free pint being given to all who completed the Total Warrior.
The event ran along pretty much standard lines: gym bunnies hurtle out of the blocks and blow up by the second obstacle. Lots of jumping over things, carrying logs, crawling through tunnels, being electrocuted and, of course, mud.  The difference with this event, though, was that it took place in lovely weather.  With temperatures of 28-degrees getting into the mud pits was quite refreshing.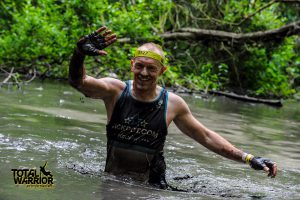 Chris  had this to say following his second obstacle course race, "I'd still recommend these events to everyone as a refreshing change from swim/bike/run. Most take around 2hrs, so they are definitely an endurance event.  And, I did notice, that TW had a timed wave at the beginning.  Given that I started triathlon 'for fun' following a smashed wrist, I can see where all of this is going… ☹".
Welldone Chris.