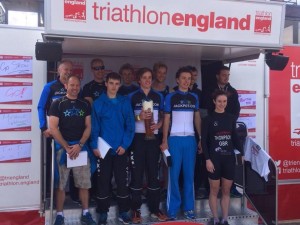 Jackpot Racing sent a strong quartet of teams to the National Club relay championships on 23rd August to compete in the open category of the first wave of the weekend. The student contingent were put in team 1 whilst a strong quartet of Yorkshire based athletes made up team 2 to give two strong teams to challenge for the win, whilst everyone else was split into two other teams to enjoy the day and have some inter-team rivalry!
Team 1 made up of Kieran Hill, William Cowen, Andrew Whiteley and Mika Brown made an exceptionally strong start to the race, leading the swim from start to finish and coming out over a minute ahead of second place and 3 minutes ahead of Jackpot Racing team 2. Both teams were neck and neck on the cycle, with team 1 only gaining a minute on the second discipline. A strong first run section from Jonny Mclean set his team mates Eddie Howarth, Colin Hill and Kieran Savage in a strong position going into the last three run legs, and with the chance to claw back Team 1. At this point in the race Jackpot Racing had the first place and second place teams in the open category, and 8 minutes ahead of third place!
The gap between teams 1 and 2 yo-yoed between the second and third legs but ultimately team 1 had a gap too big to overcome on just the run. Both teams finished by running down a packed finish line in front of a great crowd cheering them on to take the top two places in the open category in their first year of existence and first time in the race. Team 1 finished in 3:07:17 in tough windy conditions and team 2 finished in 3:09:56 which landed them in 5th and 7th overall for the weekend behind teams boasting Great Britain standard talent. Fair to say it was a successful outing for both teams!
Perhaps the greatest aspect of the club relays is the incorporation of all talent levels that can race at the same time, and this was encapsulated by the other two teams racing at the same time whilst still trying to post the quickest times possible. The third Jackpot team made up of Francis Riley, Jenni Muston, Ben Garrard and Richard Knell-Moore put together some strong performances to finish in 3:39:21 whilst also battling some injuries and last minute change of team members! The fourth and final jackpot consisted of Gary Simpson, Ady Stott, Neil Midgley and China Clarke managed to get round the tough conditions in 3:44:42 and did notably well considering one of their team members was battling his first competitive race in the triathlon scene in his first year in the sport.
It is safe to say that all the athletes had a great day out and there were smiles all round throughout the day (except maybe for the early start) which goes to show this format of racing is to be enjoyed by everyone. Taking home a first place and second place trophy along with two top-10 overall places in the first year of existence for Jackpot Racing, especially in such a competitive race, shows promise for next year. Who knows, maybe they can climb up some places and contend for a National title next year?!