Its been a couple of weeks since our last report and its fair to say that the season is well under way.
The weekend of the 4th & 5th March saw Will Cowen in action at the Milton Keynes Half Marathon giving his legs a run out before the Clumber Park Duathlon later this month.  Here's what Will had to say.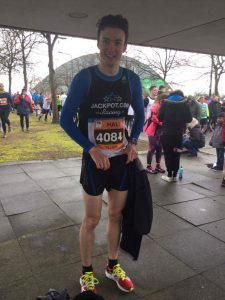 "It was my first half marathon so I decided to stick to my plan. I watched the front group of 5 go away and settled into my pre decided pace. This was looking good, going through the first 10k in just over 34 minutes and then through 10 miles in just over 56 minutes. Then the race turned a corner with around 3k to go and the plan changed from holding the pace to making the finish. A stiff headwind and seemingly endless uphill gradient to the finish saw the pace drop off to over 4 min k's, with my final finish time being 1:16:45. Given the course and conditions I'm happy with the time, and looking forward to Clumber Park duathlon in a couple of weeks. After that I'm heading out to Mallorca for a weeks camp which leads straight into my first 70.3 of the year at challenge Gran Canaria- where I'll be racing as a pro for the first time".
Thanks and well done Will with a great time and 7th Place.
Meanwhile still South of God's county the following weekends action saw Ian Gilham racing in his first draft legal Duathlon of 2017.  Ian  said.
"It's déjà vu all over again at the first Duathlon of 2017 where we left off in 2016 at the Bedford Autodrome. This time the weather was restricted to "light drizzle" without the gale force winds, fog and driving snow of last year. Tropical!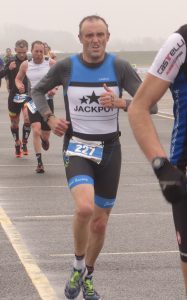 Usual punch up on the first corner after the shotgun run start – settled into a decent, but rusty, run pace into T1. Out onto the draft-legal bike leg found myself Billy no mates in a group of 1 – smashed myself up for 2 laps desperately trying to get onto the back of a group about 100 meters ahead of me – being unable to get there and my heart rate maxed out I looked around to find a chain gang of 14 on MY wheel. My elbow flicks and swings left and right being ignored plan B  (roll back a bit and ask the guy on my wheel what his last f****** slave died of) did the trick and I was able to sit up and catch my breath for a few turns. Given that most of the guys on my wheel were barely half my age I'm getting "Help the Aged" printed on the back of my Jackpot tri suit for the rest of the season – not subtle but these guys clearly can't take a hint!
Second run was uneventful, gaining a couple of places to qualify in 2nd place for the World Champs in Canada later in the year.
Now back to the pool………."
Welldone Ian and congratulations on your qualification to the Worlds finishing with a time of 1:03:07.
Meanwhile back in Yorkshire Adrian Stott, Gary Simpson and Howard Bednarek were in action in the YRC invitational 10mile TT on the infamous V910.
Adrian came in 27th in a time of 24:27, Gary a 26:32 and Howard coming home in his first TT in 33:51.  Welldone One and All.