Rombalds Stride – Saturday 4th February 2017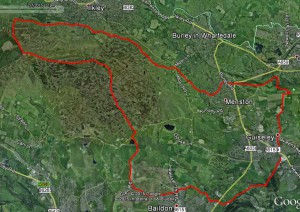 Rombalds Stride Winter Challenge is a 23 mile mixed terrain run and/or walk. The route takes in some of Yorkshire's finest scenery, going up the Airedale Valley, over Rombalds Moor to Ilkley and finally and cruelly (more later) up and over Otley Chevin.
Jackpot Racing was represented by Tom Van Rossum, Eddie Howarth, Richard Roberts and Peter Kidd.
A 9am massed start saw some 500 runners and walkers setting off from Guiseley with the event having a cut-off of 10 hours to allow walkers the chance to finish. The cut-off proved to be no threat to any of our competitors with some impressive times recorded. Results are listed at the bottom of this page.
The weather was good throughout but there had obviously been rain resulting in a muddy, slippy and boggy course.
Tom Van Rossum was the first Jackpotter home, finishing in 2hours 58minutes. Tom said of his race: "A cracking event to open my racing season. It's a testing route but the friendly support from fellow runners, marshals and spectators make this a special event. Running the gauntlet of mud alongside the electric fence was an extra challenge."
Eddie Howarth was next back in 3hours 25minutes. Eddie observed: "A challenging fell run, I thought I was ready for but my legs fell apart after 11miles. A great early season run which shouldn't be missed. Roll on next year."
Richard Roberts completed in 4hours 27minutes and reported: "It was muddy, boggy beautiful and hard. Oh and I did an excellent dive and roll down from Baildon Moor as I overtook someone. I defo got a 10 from Len."
Finally Peter Kidd returned in 5hours 11minutes noting: "The challenging muddy course tired my little old legs out. The descent at 21miles to the bottom of Otley Chevin just so we had to scramble back up it by the muddiest route possible was particularly cruel and brutal – I loved it."
A hot meal and rice pudding and peaches provided a delicious finish to a well organised and enjoyable race.
Well done all!
Results (494 Finishers):
Tom Van Rossum: 2:58:28 – 5th Overall
Eddie Howarth: 3:25:42 – 32nd Overall
Richard Roberts: 4:27:04 – 147th Overall
Peter Kidd: 5:11:20 – 195 Overall