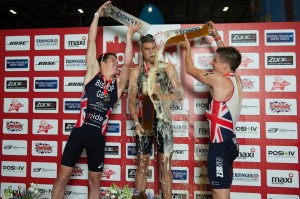 The 3rd August played host to the annual London Triathlon, one of the biggest races of the year, and no less than four of Jackpot Racing's athletes entered the Elite Male Olympic distance race.
With 45 men on the start list it was always going to be a crucial swim, and David and Thomas Bishop took advantage of the first discipline to get out in the front pack on the cycle. William Cowen and Kieran Hill, although both exceptionally good swimmers in their own right, just missed the front pack coming out the swim and subsequently ended up in the second pack on the cycle.
With around 15 athletes in the front pack it was destined to turn into a running race, which played into Bishop brother's hands, but with Tom nursing an injury it was up to David to bring home the bacon. Will and Kieran, having both put in a lot of work in a lazy group of athletes, would have to make up their positions on the run and see if they could scrap a top-25 finish.
David got off the cycle section at the front of the first pack and hit the ferocious pace straight away. The gulf in class was apparent from the off as David joined Mark Buckingham to break away from the other athletes immediately, but David slipped off by only a few seconds a lap to come in second, posting a 29:18 run time for the tough London triathlon course. Further back Kieran and Will came onto the run in a big pack and both athletes showed their class,  with Will posting a 32:41 after only a few weeks running, and Kieran coming in on a 35:28 despite rolling his ankle mid-run.
The final positions were David Bishop 2nd, William Cowen 13th and Kieran Hill 21st for the Jackpot Racing athletes. Thomas Bishop didn't finish after having to avoid the run due to injury, but had he been healthy there's no doubt he would've been challenging for a podium position.
All these athletes get a week's rest before doing the same again at Liverpool on 10th August!