Ian Gilham recently raced in the Beaconsfield 5-mile Cross-Country on Easter Monday. Decent weather for a change and despite having a couple of weeks off running with an ankle injury Iain managed a time of 33.40.  Finishing over a minute and half faster than last year and coming in 40th overall and 3rd in the old boys age group. With a couple of days of rest and recuperation planned Ian's next target is the Yokohama Tri next month this month.
A little further a field saw Gordon Kilroy compete in last weekend's ETU European Duathlon Championship. Gordon reports
"As it should've been called the Anglo-Spanish Championship with a few guests(including Mexico?!?). Having seen snowy photos from the early arrivals, cold, wet and windy weather on race day was a slight improvement although still not for the faint hearted. The first 10k run was 4 laps through the park in Soria. In a stoke of luck i managed to time these perfectly by making it across the start line before the next wave started. I was also lucky enough to miss the barriers being blown across the course and being tangled up in the flying barrier tape which some poor athletes experienced.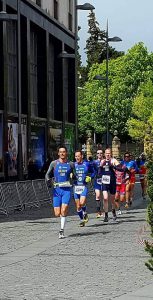 That lucky phase was short lived as I came into T1 only to find that the flags that I was using to help find my place had blown away. This completely threw me and for the life of me, I couldn't find my bike! Even a race official started to come over to check it hadn't been stolen. After what seemed an eternity, I realised I gone down the wrong row! It didn't get much better out on the bike course.
It was a 3 lap undulating out and back. Out was into a strong headwind that whipped the rain/hail into us. The back was 5 minutes faster which took us onto a Spanish motorway! Fortunately, I'd not taken a wrong turn. T2 was thankfully disaster free and out onto the run I finally managed to drop the Spaniard who I'd been constantly swapping places with on the bike ascents/descents. 2 short laps later and the finish line was in sight. With a strong finish, it was time to sample some recovery beers and the local pork scratching".
Welldone to Ian and Gordon.