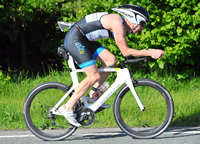 Name: Richard Knell-Moore
From: Leeds, born and bred
Favourite Discipline: Got to be the bike, then swimming and tolerate running
Favourite Race: Love the Vitruvian
Best result: Technically a podium at Helwith Bridge Duathlon but as I'm not a runner, it'd have to be Outlaw 2013.
Profile:
Not bad for a time pressured, family guy. Love the challenge of constantly improving and achieving what was once seemingly beyond possible.
Next challenge is to improve my run pace to the next level! These guys keep me striving for better results!