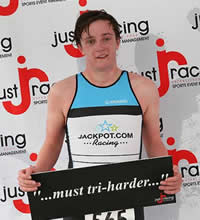 Name: Mika Brown
From: Harrogate
Favourite Discipline: Running
Favourite Race: Got to be the club relays, purely for the love of carnage and confusion!
Best result:  Winning the U20 National Sprint title in 2013 at Nottingham
Profile: I like to think I'm nice and chilled out when it comes to training but turn my game face on when it comes to race day . I'm currently training at Loughborough University with some of the other jackpot.com athletes which gives a great training atmosphere, whilst also providing some good rivalries in the process. I'm a big believer in celebrating post-race, so you best believe I will have a beer in my hand after a good result, or something stronger in the case of a bad one!