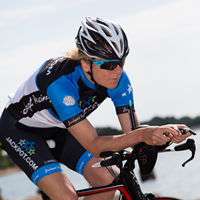 Name: Jenni Muston
From: Loughborough
Favourite Discipline: Running… and dreaming
Favourite Race: Has to be the 70.3 Mallorca – had a scream, fab race, fab people
Best result: Chester Marathon 2010, 1st lady, 3:00:44…unfinished business there!
Profile:
The most inconsistent in training athlete I know, also worst in transitions – this is me, Jenni Muston. Will try my hardest, always and will always smile my best always. Flexibility needs serious attention as well as bike maintenance skills. Linguist by training, see life through rosy coloured spectacles, it's great in my world. More people should try it. Hit 40 this year – no grey hairs or fillings….yet! Capped tooth when I fell over on the dodgems once though. VERY pleased to be part of Jackpot Racing 🙂 !