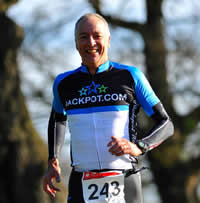 Name: Francis Riley
From: Bramley, Leeds
Favourite Discipline: Run
Favourite Race: IM Switzerland
Best result: 2nd IM New Zealand 2007 (Age Group 60), qualified for Kona but couldn't commit due to injury (unfinished business)
Profile: Former runner with Pudsey and Bramley Running Club. Best Marathon time 2:47. First triathlon Aireborough Tri about 1982/83 on a borrowed bike with Sturmy Archer gears, did Breaststroke for the 400 and finish 11th of 60 odd competitors – little acorns eh! Done triathlon ever since for the buzz, the social side and to stay relatively healthy.